The sensible acting of Han Ga In is attracting attention.
In the episode 8 of MBC drama The Moon that Embraces the Sun broadcast on January 26th, 2012, Wol (Moon played by Han Ga In) is kidnapped been regarded as the female shaman who absorbs adversity. Some fragments of her memory appear in the mind of Wol due to fear, but she doesn't know whether it's her childhood memory. During this scene, Han Ga In displayed her distinctive melancholy eyes' expression acting.
In addition, Wol is entering the king Lee Hwon's seraglio as the shaman who absorbs the adversity. Wol expressed that although she doesn't know why, but looking at his passionate devotion, she feels some forgotten hesitation that knows no end. Especially Wol is still showing the righteous expression before accepting the task of absorbing the adversity, but in a split second, she is touched by the unknown feelings of Lee Hwon.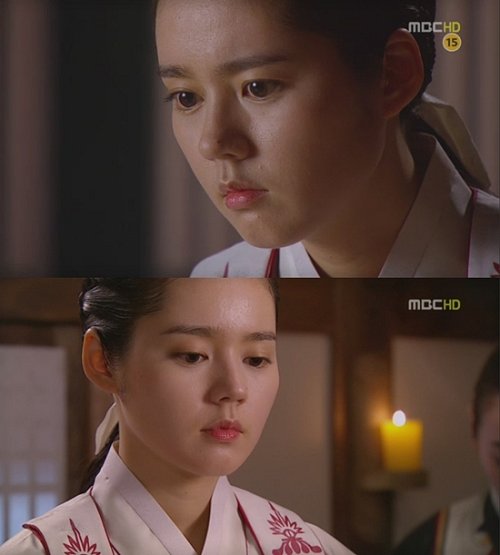 The scene of both of them does not recognize each other agitated many people. The fans praised, "The performance of Han Ga In and Kim Soo Hyun is too good."
On the other hand, during the process of been abducted, Wol received the help from Yang Myung (Jung Il Woo) who is disguised as a Taoist priest. Yang Myung said, "Do you recognize me," but Wol does not recognize him. The look of Wol who is losing her memory not recognizing Yang Myung attracted audience's attention, letting viewers to feel pity again, and provoked laughter.
On the day's program, the triangular relationship between Wol, Lee Hwon and Yang Myung and their fates are becoming the concern of the viewers.
via Segye