Early in the New Year, the blessing of Han Ga-in (30) is overflowing, where she is courted by Jung Il Woo who 5 years younger than her and Kim Soo Hyun who is 6 years younger than her in MBC Wednesday and Thursday drama series The Moon that Embraces the Sun (The Moon Embracing the Sun), showing the outbreak of popularity in opposite sex. In the drama, after Yeon Woo who is played by Han Ga In is taken a fancy and chosen by crown prince as crown princess, the misfortune suddenly befalls on her, and she loses her memory, becoming a shaman. The Moon that Embraces the Sun achieved rating of 18% on debut, and exceeded 20% since 3rd episode, the popularity continues to soar, making people to be full of expectation while looking forward to Han Ga In who starts making appearance in episode 6.
– What do you feel of co-starring with youthful star Kim Soo Hyun as lover couple?
"I used to watch his works, very arresting, his acting is very good, the future will be bright, was curious at that time about who he is? I did not expect to co-star with him in this drama, very happy. As long as I perform normally, there shouldn't be any problems."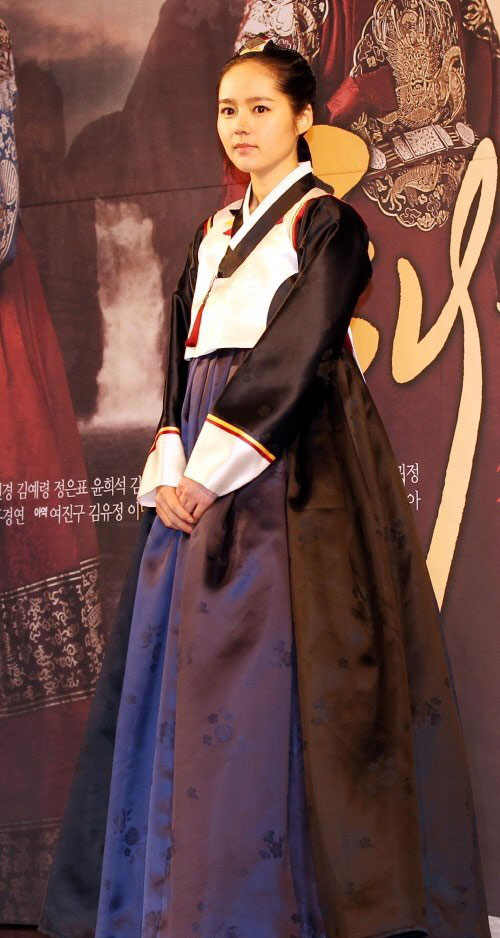 – In real life, your age is older than both Kim Soo Hyun and Jung Il Woo, is there any pressure?
"Give them an apology in advance. (Laughs) I certainly have a lot of pressure, I am older than Kim Soo Hyun by 6 years, older than Jung Il Woo by 5 years, although I also try to look younger, but this is not a problem that can be solved quickly. But I believe that with progress of the plot, the audience will naturally see me as the Heo Yeon Woo in the drama, and not Han Ga In."
– What is the response of your husband Yun Jung Hoon about you're filming with two young actors?
"We usually don't talk about the works personally starring in, he didn't say antyhing, but surely he would be envy of it." (Laughs)
– This is the first time you challenge the sageuk historical drama, should be much more difficult to act than modern drama, why you want to choose this drama?
"First of all, the drama's script is really very interesting, causing people to unconsciously look forward to the story of next episode. People around me often said that acting in historical drama is very tiring, but I do not have any experience yet, so I personally want to try once. This is the first time I appear in historical drama, previously there was always people who asked me strangely, 'You never act in historical drama before?' So I want to appear once, and then before I was often surprised, and asked 'do you not acted historical drama,' I want to play once, then answers with dignity, 'I acted in the historical drama."
– You have married for 7 years, and you have no plan to produce baby?
"We also want children, but two people are busy busy, always is no time, we intend to wait for some time."
– Your husband Yun Jung Hoon said during interview, "Will have baby when we produce a masterpiece," what is your thought?
"I hope this drama will be my masterpiece." (Laughs)
– How do you spend your time when there is no filming?
"Cooking, laundry, doing some cleaning, doing the housework. Usually filming schedule is very busy, once back in home will want to rest, but there are always many things to do." (laughs)
– Getting one year older in the New Year, age is bigger, personality will change, right?
"How should I say, a lot of people said that I am very feminine, very levity, but in fact this is not my character, though older, but my character is still a bit careless and straightforward, in future I want to show more of my original appearance."
via Joongang Daily