"Who can retrieve back the good times, the season of first love."
Recalling 'first love' seems to be quite suffering for Goethe, but for directors of Korean movies and drama series, it's not a difficult thing after having Han Ga In. Director Yoo Ha in Once Upon a Time in High School: The Spirit of Jeet Kune Do, director Lee Yong Ju in Architecture 101 and director Kim Do Hoon in The Moon that Embraces the Sun have all chosen Han Ga In to play the first love heroine. Han Ga In has become a synonym for "first love."
In fact, with Han Ga In playing the role of first love heroine has become the elixir to ensure box office guarantee. The total number of viewers for Once Upon a Time in High School: The Spirit of Jeet Kune Do exceeded 4 million people, the viewership ratings of The Moon that Embraces the Sun also exceeded 40%, while on March 29th, 2012, Architecture 101 that has just released for 8 days has attracted more than one million viewers.
Recently, the reporter interviewed Han Ga In a coffee shop in Samseong-dong, Seoul. When reporter praised her, "Real person looks even better than on screen," she said with a deep and clear voice, "People who saw me said so, but there is no way to get everyone to see me directly…"
The following is the English translated excerpts of the interview:
Q: This is the first time in seven years after Once Upon a Time in High School: The Spirit of Jeet Kune Do that you are starring in movie again, this time also played the first love of somebody, is this so?
"Although the role I played this time does not break away from the past image, but can show other side. Director said I not only met his requirements, but also has an unexpected feel, so he selected me."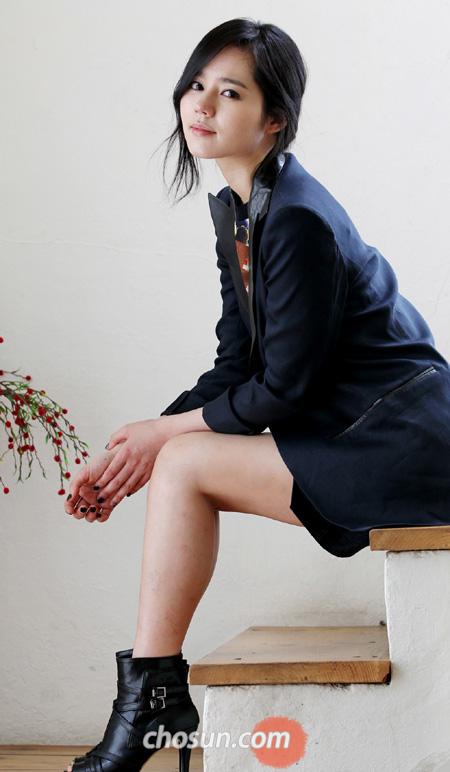 ▲ Recently, Han Ga In was interviewed in a coffee shop in Seoul's Samseong-dong. She said, "The way I relieved the pressure is by listening. Recently I listen to music of Big Bang all day." She has learned Fantastic Baby, the song of Big Bang.
Q: What is the feeling of the unexpected, is it name calling? (In the movie, Seo Yeon played by Han Ga In used to scold when drunk.)
"Director said that I am more rough, have more ideas that I look, is very similar with Seo Yeon in the movie. I do not know how to conceal my feelings. The name calling scene shows my other side, very happy, I should have cursed more maliciously."
Q: In Once Upon a Time in High School: The Spirit of Jeet Kune Do, you plaed a female high school student, but now you played a 30-year-old divorced women, what do you think?
"I'm not afraid of growing old. When young at over 20 years old, instead making it difficult to bear. By chance I was selected as the model for an airline, and I worked everyday without any goal. I almost forget all memory at that time. When young I just think of myself, and only begins to compassionate for people who works together when grew up."
Q: Aren't afraid of been labeled as with 'image of pure first love?'
"Used to agonize for this in the past. I do not have much femininity, nor is a woman who looks good and innocent, I do not know why people looking at me like this. Because I didn't participate in talk shows, there is no way to let people know what kind of person I am. Because I also used to worry about this question. Someone told me, 'Because you have such a side, so people is looking at you like this.' In fact, I have many sides, but there is only one that is known well by others."
Q: Your acting in The Moon that Embraces the Sun has caused controversy, what do you think?
"It's not because the historical drama is difficult, but because the role is difficult. The role of Yeon Woo is completely different form my personality. She is tolerant and inclusive when dealing with people, just like a saint. Sometimes when I was acting, I felt depressed, very difficult, but at the same time also learned a lot."
Q: Compared to acting, your appearance is in the even more discussion, do you feel regret?
"I can only become an actress because I have this outlook, so I have a grateful heart. Because of appearance, sometimes acting goes unnoticed, but can only accept it. No matter it's praise or criticism, I will not shaken. Compared to the results and appraisal, what's more important are what kind of person I am, what I want to do, and working together with who."
Q: What kind of role you want to play in future?
"Troubling by it right now. I do not know what role is suitable for me that can be better when I act in it. I also want to try the role of villain and tomboy-like character. Comparing with the side which I don't have, I want to show the my side which is unknown to others."
Q: You seem to think a lot of things, is that right?
"During childhood, I wanted to be an example to other people, to become a very excellent person in regardless of character or moral. But recently I keep wondering why I need to become such a person. Been bounded by yardsticks and rules of others, I feel very unhappy. The life is short, why have to pass so hard. So I am thinking what exactly I want to do, why should I do so. My puberty period seems to just coming."
via Chosun