The photo that certified Yoon Seung Ah (28) and Han Ga In (29) were shooting overnight was revealed.
On January 28th, 2012, Yoon Seung Ah tweeted on her Twitter account, "Dear, I'm glad the ratings exceeded 30%, to commemorate the shooting that lasted throughout the night, Yeon Woo and me ate supper together," and uploaded a photo.
Yoon Seung Ah and Han Ga In who dressed in costume were eating fried rice cakes and other late night snacks, and took a photo together. The beautifulness of two persons is eye-catching.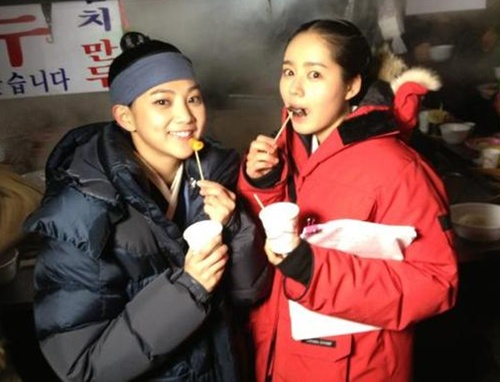 Netizens who saw the photos said, "I have also prepared supper for Han Ga In," "The mood of Yeon Woo is not bad," "Two persons are so beautiful," "Will keep watching the live telecast in future," and so on.
The ratings for drama The Moon that Embraces the Sun that becomes a discussion topic due to debut of adult actors exceed 30%, and the popularity keeps rising.
via SportsSeoul