Han Ga In revealed her feelings when facing with Kim Soo Hyun.
On February 27th, 2012, a video that contains the interview with Han Ga In who plays the role of Heo Yeon Woo in MBC's The Moon that Embraces the Sun was posted on the official website.
In the interview, Han Ga In recalls the moments she wore the clothing of the queen. Han Ga In said, "There is a scene where Yeon Woo is dressed in queen's outfit looking at each other in the imagination of Hwon. The atmosphere was good," unable to conceal her happiness.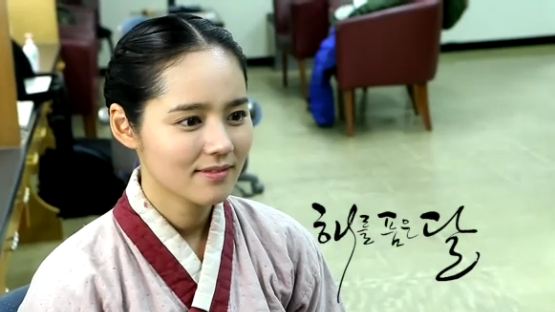 Han Ga In continued, "It's not just the issue with costume. Although I don't know why I feel such a strange feeling but I like it. Whenever looking at Hwon, my heart is feeling upset." After saying such words, everybody gets her meaning.
She added, "Want to see the look of Yeon Woo who becomes the queen. But wondering if it will only happen nearing the end."
The Moon Embracing the Sun has exceeded 40% ratings, and is expected to ascend greater height when the drama welcomes its grand finale on March 8th, 2012.
Watch the Han Ga In interview BtS video: