Who is exactly the main character involved in the murder of Crown Princess incident 300 years ago?
Episode 18 of SBS's "Rooftop Prince" aired on May 18th, 2012 shows that Park Ha pushes away Lee Gak (Park Yuchun) who is about to be hit by Yong Tae Moo (Lee Tae Sung), and plunged into the crisis of death.
The ultimate goal of Tae Moo is Lee Gak. After the evidence that he is related to the death of president Yeo was discovered, Tae Moo said, "Lee Gak must die," and set up a trick a Hong Se Na (Jung Yoo Mi). In order to carry out the murder, Se Na uses Park Ha's mobile phone to asks Lee Gak to the reservoir.
Se Na brings along Park Ha's mobile phone and couple T-shirt to reservoir together with Tae Moo. Lee Gak chases after Se Na who is wearing the couple T-shirt in the dark. Tae Moo who found Lee Gak rushes over to him. The last scene is Park Ha, who knew the trick slightly later and come to the reservoir, stands in front of the car in order to save Lee Gak.
But there are many voices about the possibility of Se Na, instead of Park Ha, who would be hit and killed by the car. 300 years ago, at the time when Crown Princess was murdered, many viewers pointed out that the face of Crown Princess was not shown in the end, and reasoned that the person who fell into the water and drowned is not Crown Princess but Bu Yong (previous life of Park Ha).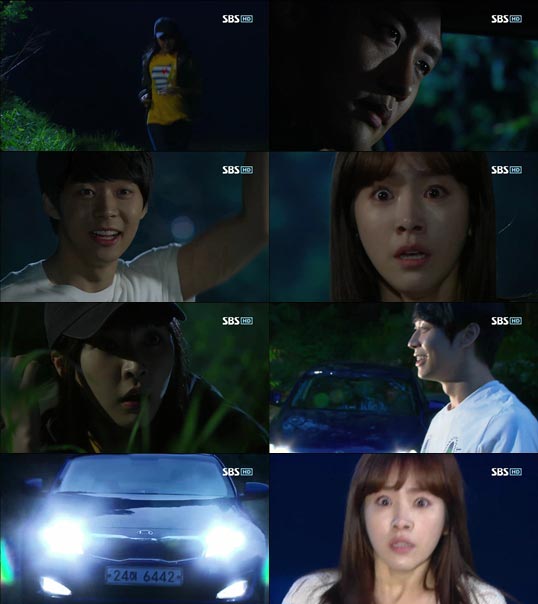 The speculation is that at that time, Bu Yong passed away when wearing the clothes of Crown Princess. In modern times, it can be inferred that Se Na would suffered from the fate of death when wearing the clothes of Park Ha. Especially the anxious face shown by Se Na when Park Ha jumps onto the car, or through Se Na's lines which suggest that she might die, "If I died once and for all, would I be forgivven?"
Netizens who watched the broadcast said, "If Park Ha died really can not be justified," "Only Se Na died would clear off the notoriety of the so-called bad guys," "Our Lee Gak is pitiful, what to do?" "I vote for Se Na gets hit by the car while Tae Moo fell into the reservoir" and so on.
via Daum