In the final episode (ep. 20) of SBS's "Rooftop Prince" aired on May 24th, 2012, thanks to the necklace gifted by Park Ha (Han Ji Min), Lee Gak (Park Yoochun) once again escaped death.
The gang of Crown Prince who returned to Joseon Dynasty begain to investigate the secret of the murder of Crown Princess. The original plot is to kill Lee Gak, but in order to save Lee Gak, Bu Yong (the past life of Park Ha) died instead, causing the tragedy.
The masterminds behind the scene are none other than family of Crown Princess and half brother of Lee Gak, Prince Muchang (Lee Tae Sung), who is the past life of Yong Tae Mu. In the process of investigating the murder case, Lee Gak is attacked by Prince Muchang, and is hit at the chest by the arrow of Prince Muchang.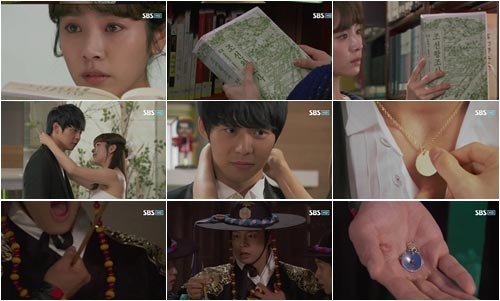 When the arrow stuck in the heart of Lee Gak, Prince Muchang assumes that Lee Gak is dying, and laughes. But Lee Gak is unhurt, because the arrow hit the necklace, and not Lee Gak's heart.
Before Lee Gak went back to Joseon Dynasty, Park Ha requested him, "Must hang on the chest," and gave him the necklace the wedding keepsake. Park Ha who saved the life of Lee Gak in the past life, and this time, she once again saved his life.
Previously, in order to prove that Lee Gak is from Joseon Dynasty, Park Ha went to read "Annals of the Joseon Dynasty". While reading, she was shedding tears, raising curiosity.
Netizens who watched this scene commented, "So she read that Lee Gak was killed by arrow, so she prepared the necklace," "Ah! Tragic, Bu Yong is so poor," "Even after 300 years, still remembering," and so on.
On the other hand, the last episode of the "Rooftop Prince" recorded the viewership rating of 14.8% (national average based on AGB Nielson), an increase of 2% from 12.8% achieved on the previous episode, and become the drama ranked number one of the same time slot.
via Nate