Recently, actor Kim Soo Hyun is trending. Women who heard his name, will scream. Kim Soo Hyun played the role of Hwon in MBC drama The Moon that Embraces the Sun, which was ended on March 15th, 2012, but his popularity is still soaring rapidly like an arrow. He recently shot 15 CFs, reportedly earning more than 5 billion South Korean won (about 4.39 million US dollar) in advertising revenue alone. The dialog line that expressed affection, "Do not away from me," has long been a buzzword. Reporter interviewed Kim Soo Hyun at Gwanghwamun in Seoul on March 20th, 2012. The following is the translated excerpts of their conversation:
Q: Do you feel uneasy about current popularity?
"After debuting in 2007 via sitcom Kimchi, Cheese, Smile, I always in the state of uneasy. Because want to perform better, so always feel uneasy and anxiety. Feel some discomfort on suddenly increased popularity, but has grown used to the unease."
Q: I heard that you had heart disease during childhood, and learned acting in order to change the overly introverted personality.
"Because of prolonged illness, I used to suffered from depression in elementary school. After been cured by surgery, my inward character did not change. Facing with strangers, I dared not look into their eyes. Especially to women. My parents are also busy with work, I always stay at home alone. Watching TV alone, eating alone, playing alone. May be because of worrying of the son, one day my parents told me, 'Soo Hyun, do you want to learn acting?' So I entered dramatic arts study group of Yonsei University to learn acting with the mood of seeking treatment for my illness. The first performance I participated in was "A Midsummer Night's Dream."
Q: Although began as such, but acting seems very suitable for you.
"I still remember the moment getting the applause after the end of the first performance. The scene of people cheering, lighting, hot atmosphere… just like dreaming. At that time, I was thinking, 'I want to act.' The teenager of over 10 years old who never really thought of what he wanted to do before then, nor having any desire, suddenly had a goal."
Q: But acting should not be always so relaxed and happy, it's not easy in the beginning?
"When starring in Jungle Fish in 2008, I did not dare to look my own performance during production press conference. Because I feared that I destroy that film that was painstakingly shot by director and production team, I scared until crying. At that time, I was not satisfied with the appearance. Looked like a fool… (laughs)."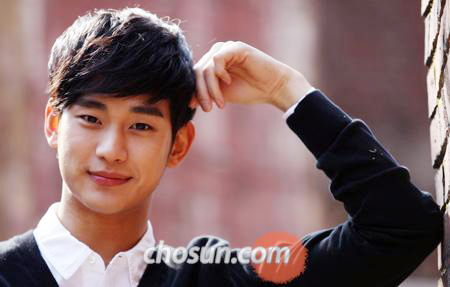 ▲ When Kim Soo Hyun laughed and asked to sign, he began to sing facing the camera. "OK? Still want? La la la." Looking he played prank, photographer also smiled and pressed the shutter.
Q: When did you overcome this difficulty?
"When played the teenage role of the brother Go Soo's character in 2009's drama "Will It Snow For Christmas?" I felt quite satisfied to myself for the first time. Even if couldn't eat, couldn't sleep, couldn't play with friends, I was still happy. I was very happy whenever thought of acting, and because of feeling happy, could not help but laughing out loud."
Q: How do you feel when shot Dream High and The Moon that Embraces the Sun?
"Song Sam Dong in Dream High and Hwon in The Moon that Embraces the Sun have a lot of differences with me personally. I am not as simple as Sam Dong, and also does not have the impromptu personality. Through Sam Dong, I learned of the way of speaking outright, concealing nothing in heart. Hwon is stronger and smarter than me, good at politics. In order to play this role well, I seriously studied the manga Beyond the Heavens that depicts Cao Cao delicately. Before shooting, I have carefully thought of what kind of manners I should use.
Q: Which scene you are most satisfied with in The Moon that Embraces the Sun?
"The scene when I tell Princess Bo Kyung, 'Today, let me undresses for princess." Because the dialog lines do not match with my age, a little nervous before shooting, but once the shooting began, I went into the role quite naturally into the role."
Q: Heard that you are an amusement on the set.
"I believe that I can only act better if the atmosphere on the set is good. So I deliberately mischievous, making atmosphere lively."
Q: Just counting CFs, you've shot 15. If the exposure is too high, it may not be a good thing for actor.
"I would like to do it first. I am still young, the opportunities are just started to know the door, I don't want to push the things that I wanted to do to the future in order to reckon about the future."
Q: Put aside the status of actor, 'youth Kim Soo Hyun' is what kind of person?
"A person worth looking forward to. Senior Bae Yong Joon said, 'Actor is a lonely career.' I have long been accustomed to waiting and lonely. I want to seriously prepare and begin to challenge. Now I have been slowly run-up, will not stop until reaching the ending point."
via Chosun