MBC's new daily sitcom, "High Kick 3" or simply HK3, held the production press conference on September 8th, 2011 at the Imperial Palace Hotel in Seoul. During the press conference, the 15-member casts and director had shared about the highly anticipated drama, and the preview for the long-awaited third installment of High Kick sitcom series was shown.
The preview of High Kick 3: Counterattack of the Long Legs did not disappoint, which unleashed a wild stampede of one slapstick-funny take after another. The drama does not have a standout lead, though the press attention has been on f(x) girl group hottie Krystal and "The Greatest Love" hunk Yoon Kye-sang for photos snapping, and the linchpin for all three seasons of "High Kick," director Kim Byung-wook for most questions, who is facing an uphill task of keep continuing to attract viewers to the drama every weekday night.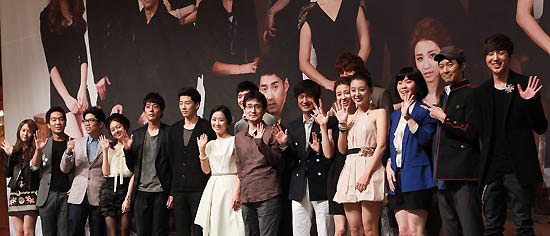 Director Kim Byung Wook was promising an aggressive and eye-catching funny start for High Kick 3 right from the beginning. He said, "High Kick 3 is incredibly dynamic in the beginning and will kind of orbit around ruckus happenings." He apologized to viewers for the tragic ending of "High Kick 2." He said, "As a start, I apologize for the way the "High Kick" series have came to an end. Season 2 had a lot of dramatic points, but we promise that this season will focus entirely on the comedic aspects of life."
When reporters mentioned that this will be the first time he's directing a comedy specifically for youths, he said, "Honestly it's easy to make comedies for older audiences. I felt like a copying machine after a while which is why I decided for more challenge. I know that it will be hard to come up with a lot of episode ideas for a show that's targeted at teens, but I think that the characters themselves are fun enough to prevent too much repetition."
As for pressure, Kim admitted that he felt overwhelmed by expectations to outperform his past successes. "But, how about looking at it this way?" He suggested. "How about you just think of it as a simple sitcom that you can tune into at 7:45 p.m. over dinner? Well that's how it is being produced, so please don't expect too much," he said while trying to reduce the expectation on the sitcom.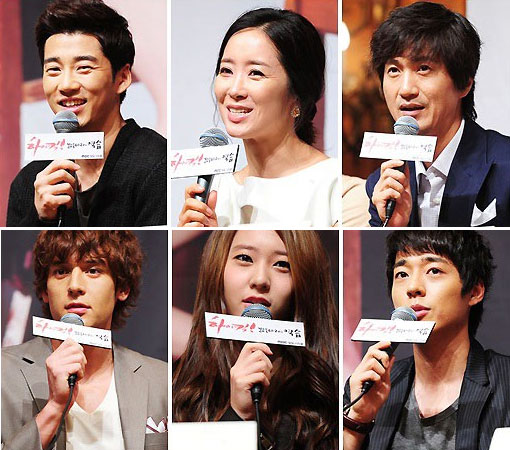 f(x)'s Krystal said, "I only joined near the end of the sitcom last time, so I think I was a lot more comfortable acting in that one. Now, I'll be in this sitcom right from the start, so I'm worried as to whether or not I'll be able to pull it off. But I think I fit the role for 'High Kick 3', so I will work hard, hopefully good results will come about."
"Superstar K2" contestant Kang Seung Yoon also spoke about the fans that were against him going into acting (especially when he's training to become a singer under YG Entertainment), "I play the role of an illogical and four-dimensional high school student. He uses a Kyungsang-do dialect and is absolutely loyal to those he feels close with. I received this audition offer while training to become a singer, and joined the program half in doubt. Once my casting was confirmed, I received a lot of criticisms asking why I'm starting with acting when I said I'd be a singer. I don't really feel anything towards people who say that, though. It's a great opportunity for me so I'm going to work hard. I'll be continuing my singing lessons while acting and I promise to come back with a better image as a singer soon."
"High Kick 3" starts airing from September 19th, 2011, on every weekday nights at 7:45 p.m. on MBC.
The production company, Chorokbaem Media, has released the footage from the production conference, which includes the recording of full length High Kick 3 preview trailer shown on the event.

Sneak preview of High Kick! 3: The Short Legged Revenge from minute 0:42.