The PD of MBC Wednesday and Thursday drama The Moon that Embraces the Sun, Kim Do Hoon, expressed his intention to join the strike on March 6th, 2012, but retracted his decision just after half a day. If director Kim left the filming scene, the drama has no choice but to stop broadcast, but he gave up the "trump card" after only 6 hours, one can't help wondering. It is reported that the director changed his mind because of the busy schedule of the main actors. So, how busy is the schedule of the actors?
Kim Soo Hyun will start the busy CF filming schedule right after the end of the drama. Before the broadcast of The Moon Embracing the Sun, he has only 4 endorsements, but now already clinched 15 endorsement contracts. If the drama ended according to the contract on March 8th, 2012, then he will have no time to rest, and directly involved in the filming schedule for the advertisements.
The person related to the management agency said, "The time of advertisement broadcast is provisioned, so the filming schedule cannot be pushed back indefinitely. Didn't expect the filming schedule of the TV series suddenly postponed, we're re-coordinating with the advertisers on the schedule, asking for understanding."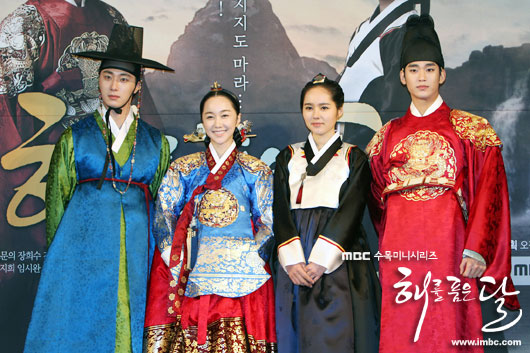 The situation of Han Ga In is similar, not only there is advertising contracts that required immediate shooting, but she also has to start the promotional activities for the movie Architecture 101 that premieres on March 22nd, 2012. Architecture 101 is first comeback movie of Han Ga In after a gap of 8 years, therefore she has feelings for the movie that is different from others. The delay of The Moon Embracing the Sun filming schedule will bring a lot of inconveniences for her promotional activities
In addition, it is reported that Kim Min Seo who plays the role of queen in the drama also have advertising pictorial shooting schedule waiting for her, while Jung Il Woo also has problem to adjust the invitation for CF that is accumulating.
A person related to the TV station said, "The high popularity of The Moon that Embracing the Sun ultimately led to director Kim took back his decision to participate in the strike. Decision was made provisionally to complete the filming before March 13th, 2012, but even so, the schedule has been delayed by a week, making it very difficult for the actors."
via Joongang Daily