The tit-for-tat battle for the love of Han Ga In by Kim Soo Hyun and Jung Il Woo officially started.
In the episode 13 of MBC drama series The Moon Embracing the Sun broadcast on February 15th, 2012, in order to prove the Wol's innocence, Yang Myung who has planned to leave appears on the chuguk (soccer) field.
Prior to this, at the moment Hwon and queen about to consummate, Yang Myung is asking Wol who is anxious to come out, confessing his heart, butt is rejected by Wol. However, in order to save Wol, Yang Myung still comes to the chuguk field, testifying that he was with Wol at that time.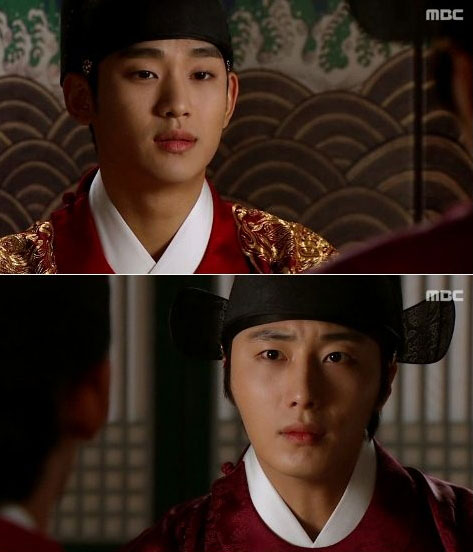 Listening to such a news, Hwon tells Yang Myung, "Heard that you went to chuguk field to testify for a lowly shaman, and this is unlike your normal conduct. Yang Myung said, "It's merely a lowly shamen, but Yeon Woo is different," and requested for permission to grant the Wol.
Hwon rejects outright, saying that it has direct linkage with the reputation and honor of the royal family and clan. Yang Myung refutes loudly, "Reputation is not important, the girl is." Hwon does not want to reveal his mind, and he closes his eyes, shouting, "Cannot, cannot."
Around Wol, the fierce love battle of two men officially started, and the ratings hit the high of 42.9%, continuously rising.
via iMBC