Actress Kim SunA who is starring in new MBC TV Wednesday and Thursday drama series "I Do, I Do" is transforming into prideful designer Hwang Ji An in the drama.She was wearing an elegant red long dress, showing off her white and smooth long legs under the skirt, the powerful is overwhelming.
In the stills released, Kim SunA was wearing a white sleeveless shirt, coupled with a red pleated chiffon skirt, and bright red high-heel shoe, the slim white legs seem ready to come out at one's call, very tempting. Especially that she sat on the stool, directly showed off her legs, attitude was sexy and tempting, making people's heart fluttering. In addition, in order to interpret the role even more perfectly, Kim SunA cut her long hair, appearing with a wine red short hair for the first time, showing the charm of arrogant and aggressive role.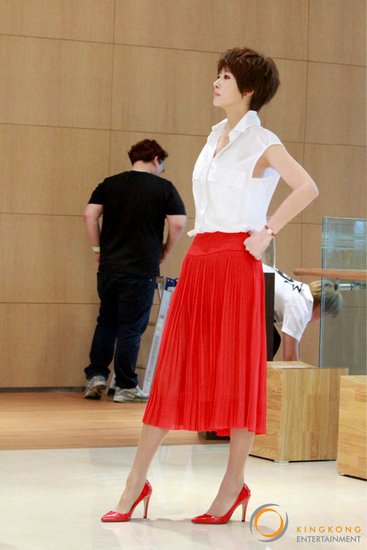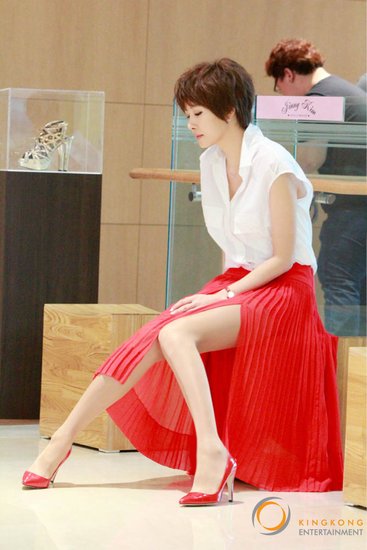 Netizens who saw the photos commented, "Hurry up and share with us the secret of creating beautiful legs," "The legs of Kin SunA are seductive, fashion is stealing even more spotlight," "The sitting style is so handsome, and proud," "Dazzling legs, so jealous" and so on.
Shoe designer Kim SunA and new employee Lee Jang Woo who has only high school qualification stage a romance in "I Do, I Do". The drama succeed "The King 2 Hearts", and debuts in end May.
via TVDaily