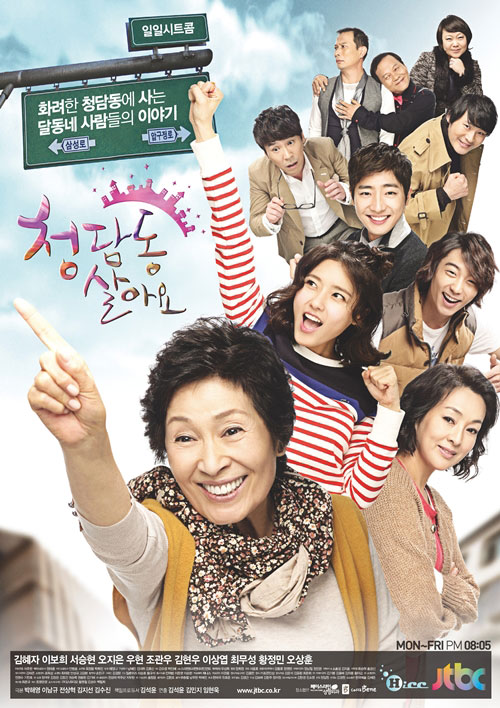 Drama Title: I Live in Cheongdam Dong
Korean Title: 청담동 살아요
Romanization Pronunciation: Cheong-dam-dong Sal-a-yo
Chinese Name: 住在清潭洞
Japanese Name: 清潭洞暮らし
Genre: Comedy
Episodes:
Broadcast Place: South Korea
Broadcast network: JTBC
Broadcast period: 5 December 2011
Language: Korean
Air time: Monday to Friday 8:05 AM
Preceded By: N/A
Followed By:
Plot Summary / Synopsis
The events that happen while running a boarding house and a comic book store in a run down 2-story building located in an about-to-be redeveloped luxury street in Cheongdam-dong.
Ji Eun is thrilled to hear that her mother Hye Ja is moving to Cheongdam-dong neighborhood. Hye Ja and Ji Eun lived in the suburbs in their whole life. Ji-Eun dreams of living a luxurious life, but her reality is quite different. The house they move into is on the 2nd story of a building that looks like it may collapse at anytime. The first floor of the building is a comic book shop and the second floor is a lodging house. Their building is located between luxurious buildings in Cheongdam-dong neighborhood.
Cast
Kim Hye Ja (김혜자) as Kim Hye Ja – Mother
Oh Ji Eun (오지은) as Oh Ji Eun – Daughter
Kim Hyun Woo (김현우) as Kim Hyun Woo
Lee Sang Yeob (이상엽) as Lee Sang Yeob
Lee Bo Hee (이보희) as Kim Bo (Hee 김보희) – Aunt
Suh Seung Hyun (서승현) as Seung Hyun
Woo Hyun(우현) as Kim Woo Hyun (김우현) – Uncle
Choi Moo-seong (최무성) as Choi Moo-seong
Hwang Jung Min (황정민) as Hwang Jung Min
Jo Kwan Woo (조관우) as Jo Kwan Woo
Oh Sang Hoon (오상훈) as Park Sang Hoon (박상훈)
U-Know (유노윤호) – Special cameo appearance
I Live in Cheongdam-dong Characters Description
Production Credits
Director: Kim Seok Yoon (김석윤)
Screenwriter: Park Hae Yeong (박해영)
Official Site
Official Photo Gallery
Official Behind the Scene (the Making) Vidoes
I Live in Cheongdam-dong Trailer: Preview Trailer | Episode Trailers
Watch online with English subtitle (not yet available).
Watch online with Chinese subtitle at tudou.com, letv.com or youku.com
Photo Gallery