Your Rating
The second OST (original sound track) for SBS sitcom Salamander Guru and the Shadow Operation Team is released on February 20th, 2012.
The Salamander Guru and the Gangs OST part 2 includes a song with the title of I Love You (사랑한다).
The song of I Love You is sang by Sunny Hill (써니힐).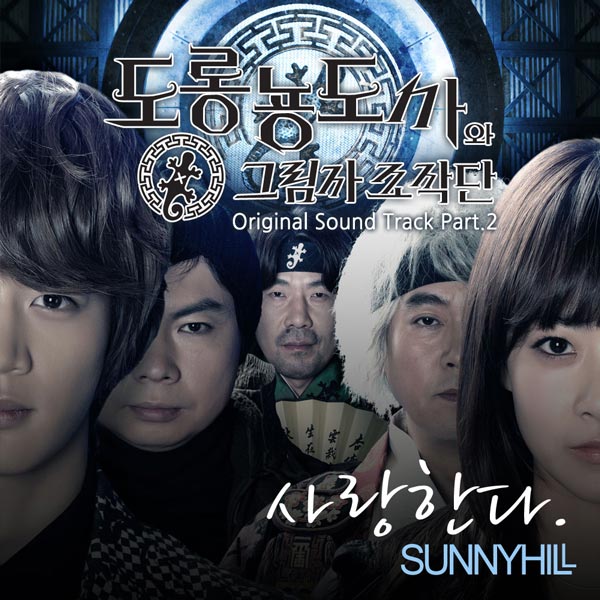 Salamander Guru and Shadow Operation Team (도롱뇽도사와 그림자 조작단) OST Part 2 Track List
I Love You (사랑한다) – Sunny Hill
I Love You (사랑한다) – Instrumental
Listen to I Love You (사랑한다) at YouTube.
I Love You (사랑한다) Lyric
사랑한다 내가 참 미쳤지
너때문에 또 맨날 울면서
아파도 웃고있잖아
가슴이 타도록
난 죽어도 너만 사랑해
믿었던 사랑이 깨지고
내맘도 깨지고 다쳐
아파도 약이 없어 아픈데 약이없어
두눈을 감아도 보여 두귀를 막아도 들려
어떡해 난 어떡해 널 사랑하면 안됐어
자꾸만 미쳐가 너땜에 돌겠어
아무것도 못하겠어 사랑의 기억과 추억땜에
생각에 미쳐가 너땜에 죽겠어
하루하루 못견디게 니가 너무너무 보고싶어
사랑한다 내가 참 미쳤지
너때문에 또 맨날 울면서
아파도 웃고있잖아 가슴이 타도록
난 죽어도 너만 사랑해
사랑은 눈물로 시작해 끝없이 내리는 눈물
너땜에 아픈날도 너땜에 행복했어
두눈에 니모습만 보여 두귀에 니목소리만 들려
안되겠어 안되겠어 널 지우는건 못하겠어
자꾸만 미쳐가 너땜에 돌겠어
오늘도 난 내일도 난 사랑이 다시오길 기다린다
생각에 미쳐가 너땜에 죽겠어
하루하루 못견디게 니가 너무너무 그리운데
사랑한다 내가 참 미쳤지
너때문에 또 맨날 울면서
아파도 웃고있잖아
가슴이 타도록
난 죽어도 너만 사랑해
넌 내맘을 몰라 넌 내맘을 몰라
왜 자꾸날 피해 나의 바보야
속상해 난 너땜에 미치겠어
널 사랑한다 난 너땜에 울고있어
사랑한다 내가 참 미쳤지
너때문에 또 맨날 울면서
아파도 웃고있잖아
가슴이 타도록
난 죽어도 너만 사랑해
아파도 웃고있잖아 가슴아파도
이렇게 널 기다려
I Love You (사랑한다) Lyric Romanization
sarang-handa nae-ga cham michyeot-ji
neottae-mune tto maennal ulmyeonseo
apado utkoit-janha
gaseumi tadorok
nan jugeodo neoman sarang-hae
mideot-deon sarangi kkaejigo
nae-mamdo kkaejigo dachyeo
apado yagi eop-seo apeunde yagiyeop-seo
dununeul kamado boyeo dukwiireul ma-gado deullyeo
eotteo-khae nan eotteo-khae neol sarang-hamyeon andwaeh-sseo
jakkuman michyeo-ga neottae-me dol-kesseo
amugeot-do motha-gesseo sarangye giyeokkwah chu-eokttae-me
saengga-ge michyeo-ga neottae-me jukkesseo
haruharu motkyeondike ni-ga neomuneomu bogoshipeo
sarang-handa nae-ga cham michyeot-ji
neottae-mune tto maennal ulmyeonseo
apado utkoit-janha gaseumi tadorok
nan jugeodo neoman sarang-hae
sarangeun nun-mu-llo shija-khae kkeu-teobshi naerineun nun-mul
neottae-me apeunnaldo neottae-me haengbo-khaesseo
dunune nimoseubman boyeo dukwiie nimoksoriman deullyeo
andwehkesseo andwehkesseo neol ji-uneunkeon motha-gesseo
jakkuman michyeo-ga neottae-me dol-kesseo
oneuldo nan nae-ildo nan sarangi tashio-gil kidarinda
saengga-ge michyeo-ga neottae-me jukkesseo
haruharu motkyeondike ni-ga neomuneomu keuri-unde
sarang-handa nae-ga cham michyeot-ji
neottae-mune tto maennal ulmyeonseo
apado utkoit-janha
gaseumi tadorok
nan jugeodo neoman sarang-hae
neon nae-mameul molla neon nae-mameul molla
waeh jakkunal pihae naye paboya
soksang-hae nan neottae-me michikesseo
neol sarang-handa nan neottae-me ul-koisseo
sarang-handa nae-ga cham michyeot-ji
neottae-mune tto maennal ulmyeonseo
apado utkoit-janha
gaseumi tadorok
nan jugeodo neoman sarang-hae
apado utkoit-janha gaseumapado
ireohke neol gidaryeo
I Love You (사랑한다) Lyric English Translation
I love you, I'm really crazy
I always cry because of you
I laugh even if it hurts
My heart burns
I only love you till death
The love that I believe in has broken
And my heart is hurt and broken
Even if it hurts, there is no medicine that can cure
I can see even with both of my eyes closed, I can hear even with both of my ears blocked
What do I do, What do I do, I should not have loved you
I keep going crazy, you are driving me insane
I cannot do anything because of past love and memories
I go crazy because of the memories, I gonna die because of you
I couldn't stand and miss you everyday
I love you, I'm really crazy
I always cry because of you
I laugh even if it hurts, my heart burns
I only love you till death
Love begins with tears, tears that fall endlessly
On the bad days that caused by you, I am happy because of you
My two eyes only see you, my two ears only hear you
I can't do it, can't do it, I can't forget you
I keep going crazy, you are driving me insane
I cannot do anything because of past love and memories
I go crazy because of the memories, I gonna die because of you
I couldn't stand and miss you everyday
I love you, I'm really crazy
I always cry because of you
I laugh even if it hurts
My heart burns
I only love you till death
You do not know how I feel, you do not know how I feel
Why always becomes a fool that suffers
I am so upset, you drive me crazy
I love you, I am crying because of you
I love you, I'm really crazy
I always cry because of you
I laugh even if it hurts
My heart burns
I only love you till death
I laugh even if it hurts, even if my heart pains
So I wait for you