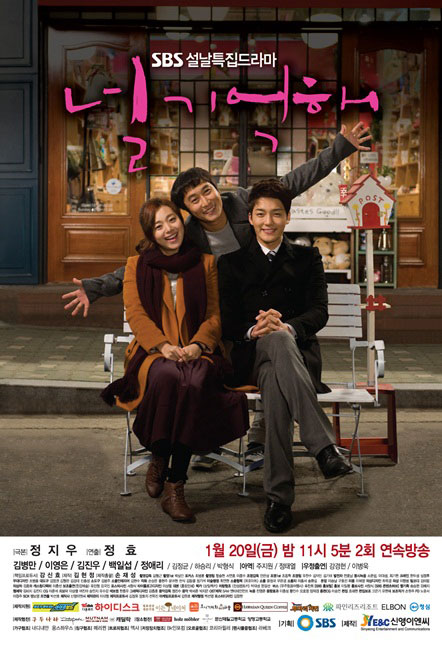 Drama Title: I Remember You
Korean Title: 널 기억해
Romanization: Neol Gi-eok-hae
Previously Known As: Christmas Gift / 크리스마스의 선물 / Keuriseumaseueui Seonmool
Chinese Name: 我记得你
Japanese Name: 君を覚えてい
Genre: Family
Episodes: 2 (2 episodes air back to back)
Broadcast Place: South Korea
Broadcast Network: SBS
Broadcast Period: 20 January 2012
Language: Korean
Air time: Monday 11:10 PM
Preceded By: –
Followed By: –
Plot Summary / Synopsis
A drama that revolves around the love and friendship of three high school friends, Duk Soo , Eun Soo and Kang Soo, who are friend since high school although they share different personality and family background.
After graduated, Kang Soo and Eun Soo work in a marketing company while Duk Soo helps his father in the shoe shop. One day, tired of hectic life in the company, Eun Soo retires and at the same time, Kang Soo is promoted thanks to Eun Soo's idea. Later, Duk Soo helps Eun Soo to open a gift shop in home village and gradually her wounded heart's cured.
Cast
Kim Byung Man (김병만) as Lee Deok Soo (이덕수)
Kim Jin Woo (김진우) as Ha Kang Soo (하강수)
Lee Young Eun (이영은) as Jeong Eun Soo (정은수)
Baek Il Sub (백일섭) as Deok Soo's father (덕수 부)
Jung Ae Ri (정애리) as Kang Soo's mother (강수 모)
Ha Seung Ri (하승리) as Yoo Woo (유우)
Production Credits
Director: Jung Hyo (정효)
Screenwriter: Jung Ji Woo (정지우)
Trivia
A Lunar New Year special drama by SBS.
Watch online (without English or Chinese subtitle) at sbs.co.kr.
Watch online with Chinese subtitle (not yet available).
Photo Gallery