The baseless plot design in KBS 2TV drama series Dream High 2 is drawing criticism.
The drama is originally an "inspiration drama" that encourages the dream and hope by young people. But the plot of the drama has gone to the extent to destroy the dream of friend for personal gain and success. The unreasonable plot is censured by the public. As the actors in the drama are mostly originating as singers, the acting skills are somewhat lack of and looks novice, so the audience feels that the drama has lost its original charm, and has the difficulty to immerse into the drama.
In particular, in episode 7 of Dream High 2 broadcast on February 20th, 2012, there is a protruded plot.
Hye Sung left the Kirin Arts Academy due to blow and hurt caused by friends and teachers. Rian who has already set up the pop idol group HershE, goes as far as using the self-composed song of her friend Hye Sung as her own work to perform on stage. In between, the four-corner relationship between Rian, JB, Yoo Jin and Hye Sung let audience feel confused.
In addition, the portrayal of Rian in the drama who does evildoing for no reason and creates rumors, as well as Hye Sun can always get the sympathize of classmates, friends and teachers whenever she sheds tears, have lost the sense of realism. And the characteristic charm of the two women disappeared completely, the drama is not vivid at all.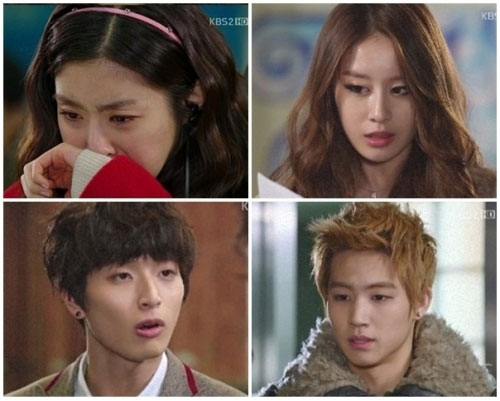 After the end of the broadcast, audience criticized the drama, "The characters are depressing, audiovisual have drama criticism "hero of the people are depressing, the plot suddenly very boring," "Idol version of 'boring drama,'" "Abandon idols, the drama is 'Love and War'?" Under such circumstances, whether Dream High 2 can make a return to appealing to viewers is worrying.
In addition, the rating of Dream High 2 on the day is 8.1%, continued to stay at the bottom position. On the other hand, Lights and Shadows gets 17.6% rating which History of Salaryman gets 16.9% rating.