With the impending arrival of spring, female who changes the hairstyle gradually increasing.
At the same time, female celebrities are paying more attention to the decorative accessories on the head. In this regard, the similar hair accessory of Jiyeon, the member of pop girl group T-ara, and national sister, IU, in late February 2012,and is attracting attention.
The hair accessory wore by IU normally makes her looks even adorable. During her appearance on the stage of KBS TV's E636 Music Bank, IU dressed in black with a wavy hair, and wore a heart-shaped hair accessory on the head.
On the other hand, T-ara's Jiyeon is playing the role of an idol with no acting skill who dreams to be the Queen of Cannes in currently airing KBS2 drama Dream High 2. In every episode, she is wearing clothes with characteristics and fashionable. Especially in episode 8 broadcast on February 21st, 2012, she dressed in purple upper garment, while wore a band-style hair accessory on the head, showing a sensible style.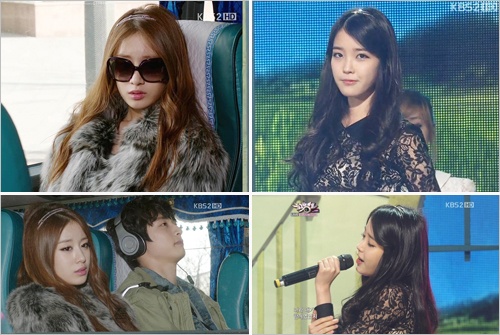 The hair accessories chosen by them are all the products of Love and Katketb, letting them more adorable and display contrasting styles.
Netizens said, "Both of them are cute and beautiful," "Goddess has to wear hair accessory" and so on.
via Naver