The deep friendship of Kim Min Seo and Jang Nara becomes a topic.
Jang Nara who is currently resting, disregarded of the cold weather and with a smile, she rolled up the sleeves to cheer Kim Min Seo who was busy filming.
On January 28th, 2012, Jang Na Ra sent gift to Kim Min Seo on the filming set as appreciation for their deep friendship. Jang Nara brought 150 sets of chicken soup to distribute to staff crews on the set.
Jang Nara and Kim Min Seo starred in drama series Baby-faced Beauty which ended in July 2011. After the end of filming, both of them busy with respective schedule, and now Jang Nara was cheering for Kim Min Seo who works hard in filming with a treat, while Kim Min Seo happily accepted the treat.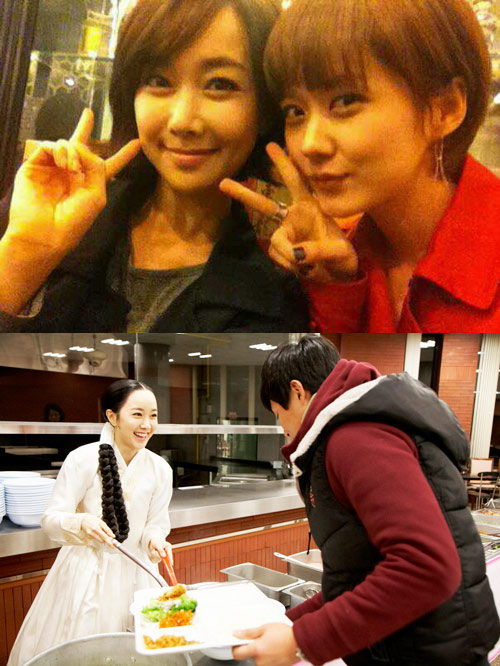 Jang Nara also has a very busy schedule. She came directly to the set to boast the morale of Kim Min Seo demonstrated her attentiveness to Kim Min Seo. It's reported that Kim Min Seo was quite tired after the shooting on the day, but she still personally gave chicken soup and meals to each crew member, the atmosphere was warm.
Kim Min Seo said, "The encouragement by the popular sister gave me more strength, I will work harder when filming to repay."
In addition, The Moon that Embraces the Sun is currently airing the reunion of Hwon (Kim Soo Hyun), Wol (Han Ga In), Bo Kyung (Kim Min Seo) at the palace, attracting viewers.
via Chosun