A Japanese magazine published the enlarged upskirt photo of Kara member Goo Hara.
On May 13th, 2012, an online community message board published the upskirt photo of Goo Hara. In the photo, Goo Hara was wearing a skirt and sat on a high chair. But the problem is at the same time, the enlarged upskirt photo of Goo Hara was also uploaded. The photo was published directly to the public without going through mosaic processing for the part that exposing inside of the skirt, creating a shock wave.
Netizens commented, "How could such a photo be uploaded?" "Goo Hara must be speechless," "Have to sue," and so on, considering the act as absurd move.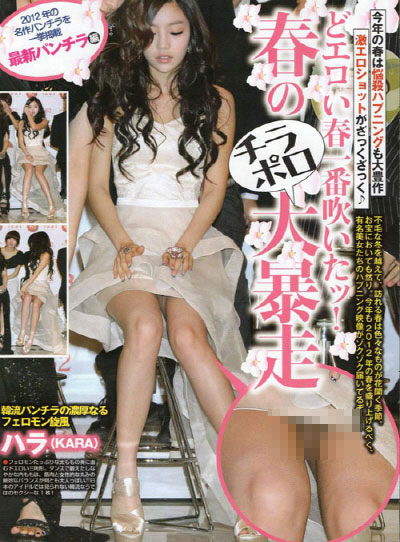 Kara who enjoys a high popularity in Japan will hold a concert tour from May 16th, 2012.
via Joongang Daily