In the episode 12 of Dream High 2 broadcast on March 6th, 2012, Hae Sung (Kang So Ra) personally affixes band-aid for JB (JB Lim Jae Bum) who was injured in fighting with Yoo Jin (Jung Jinwoon), comforting him. JB is completely moved by Hae Sung, he couldn't control his feelings and kiss the cheek of Hae Sung, showing the intense feelings for her.
The students of Kirin Arts High School prepare to participate in the third audition for Super Idol with the mission of Proposal. Seeing that JB proposed to her, Hae Sung decides to accept him. Rian (Park Jiyeon) and Jin Yoo Jin (Jung Jinwoon) become partner.
Hae Sung and JB go on stage together to perform the proposal plan. They not only practice dancing together, but also go out for dating, enjoy the happiness to the fullest. Both of them strolls through the market, and takes bus to come back together. On the bus, Hae Sung unconsciously falls aleep on the shoulder of the JB. JB is very happy together with Hae Sung, looking at every move of his beloved girl Hae Sung, his face is fully of happy smile.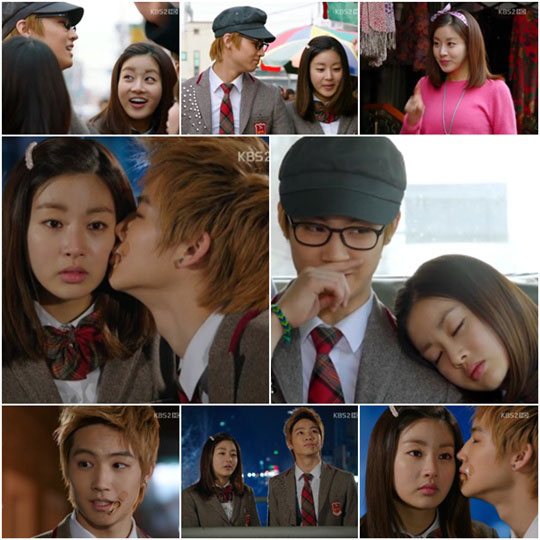 In addition, Yoo Jin learned that he is selected as the super idol as the substitute for JB, and gets furious. He goes to confront representative of management agency Lee Kang Chul (Kim Jung Tae). Lee Kang Chul suggests to him to officially sign contract with the company.
via TVDaily