In the episode 15 of MBC TV drama series The Moon that Embraces the Sun broadcast on February 22nd, 2012, Lee Hwon (Kim Soo Hyun) goes to find Wol (Han Ga In). Although imperial guard Woon (Song Jae Lim) told Lee Hwon that Wol is very well, but Lee Hwon is informed that Wol is together with Yang Myung (Jung Il Woo), and thus comes out of palace in plain cloth to check on it.
Wol who regains her past memory comes and cries at the tomb of her late father Heo Young Jae (Sun Woo Jae Duk), and goes home sadly. Seeing the sadden Wol, Yang Myung consoles Wol, suggesting to play stick together. Just in time, Lee Hwon arrives to find Wol, seeing that Yang Myung is playing stick together with her, he hides behind the wal and looks at them, with envy expression on his face that cannot be concealed. Yang Myung saw the jealousy expression of Lee Hwon, hastily hugs Wol so that she can't see Lee Hwon, and tells lie to avoid an an embarrassing scene.
At night, Lee Hwon goes to find Yang Myung, furiously questions him, "Why you so reckless?" Yang Myung said "The woman I love falls into predicament, I have no choice. Even if asking me to gave up the qualification and reputation of the clan, I am also willing to give up everything to protect her." Lee Hwon asked even more angrily, "Do you really want to defy the imperial edict not to go near her?" Yang Myung is not discouraged and strives to defend his feeling, heighten the curiosity of audience towards future plot development.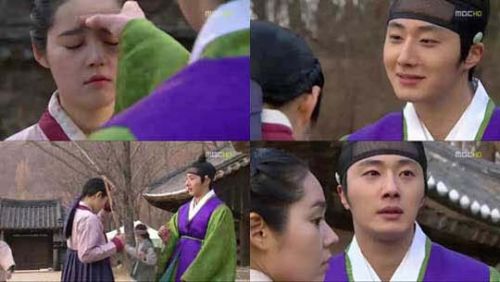 In episode 15, Wol and Lee Hwon are working hard to crack the cause of Yeon Woo's death 8 years ago.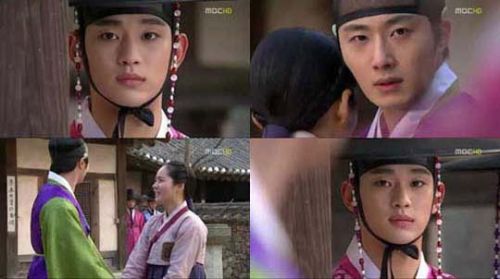 via TVDaily