Ji Sung, who took up the challenge to play the character of Cha Ji Hun in the SBS Wednesday and Thursday drama which debuted on August 3rd, 2011 and broadcast ended on September 26th, 2011, Protect the Boss, admitted that he couldn't help but want to cry as he truly felt the drama was coming to an end when shooting the scene where he was singing "I Will Love You" accompanying by the orchestra to propose to Choi Kang Hee.
Ji Sung said that Protect the Boss was his first acting in romantic comedy drama after a long time, but as having good screenwriter, director and actors, he was very happy acting in it. "I am pleased to bring a lot of fun and joy to you, in fact, I still have feeling that I am waiting for the script of the next episode to come out."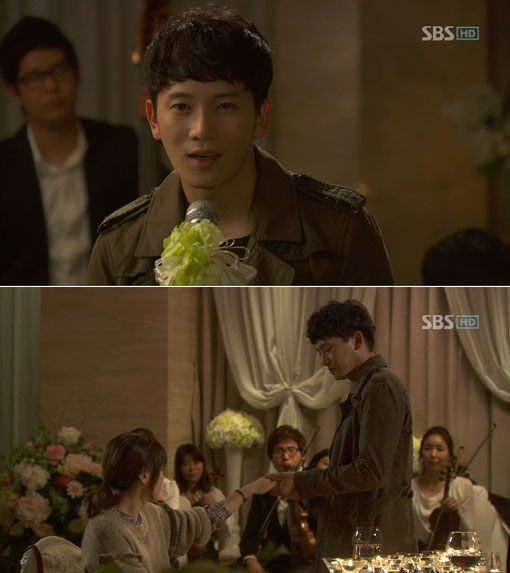 When asked to review the filming process, Ji Sung sad, "The scenes that remain in the memory is really a lot if want to list one by one, but one place that I remember in particular is the alley in front of Kang Hee's house where the kiss on railing scene was shot, can't forget it. This is the place which produces beautiful scenes for Protect the Boss, but when I think of don't know when I can come to this place again, it hurts."
At the same time, "the street on Yeouido which was walked through together with Choi Kang Hee is also memorized in the memory, and the road when shooting ending scene seems like will always preserved in memory, unforgettable. Especially the acting with Choi Kang Hee was even more in step than initially expected, and it's really a pleasant experience of acting."
In addition, Ji Sun also expressed gratitude to co-starring actors including Choi Kang Hee, Park Young Kyu, Kim Jae Joong, Wang Ji Hye and etc, and did not forget about the producers too. "PD Son Jung Hyun and film director would told us to just concentrate of expression acting, and they will take care of the rest, and at the same time would arrange to help on physical strength, care until the last episode, and for this I am grateful.
Speaking of the panic disorder of his character in the show, "I played as person with panic disorder who will panic in front of crowd because of fear, actually there was people who suffered from panic disorder communicated with me via me2day, and I had carefully studied the panic disorder, be more careful when acting, and hoped that through the recovery in the drama, can bring a little bit of comfort to patient."
Finally, Ji Sung said: "In the future I will also consider more aspects rather than just simple emotions, hope can be an actor that brings courage and hope to people. The Protect the Boss which won me the pet name of minister will be a special work when reviewing my lifetime. I do not want to leave the character of Cha Ji Hun, hope this role can stay in the memory of everybody for the long time to come."
via Daum