In episode 11 of Dream High 2 broadcast on March 5th, 2012, Jin Yoo Jin (Jung Jinwoong) confesses his feelings to Shin Hae Sung (Kang So Ra).
After been selected as the super idol, Yoo Jin is surrounded by fans and even uniform buttons were ripped off. After Hae Sung saw it, she sew the buttons for Yoo Jin. Seeing the gentle and careful look of Hae Sung, Yoo Jing could not help but kissed her cheek. In addition, Yoo Jin also proposes to Hae Sung in the "marriage proposal" mission during the third round of super idol audition. Because of shyness, Yoo Jin calmly said to Hae Sung, "Hope you can do it with me."
In particular, Yoo Jin is very jealous of JB who similarly loves Hae Sung, When JB ate together with the family of Hae Sung, Yoo Jin fet jealous, and deliberately sat in the middle of two person to hinder them. Yoo Jin misses Hae Sung and decides to participate in the filming of fashion CF.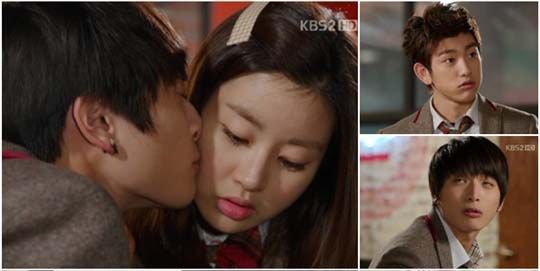 When the rumors of Hae Sung and JB started, Lee Kang Chun (Kim Jung Tae), the representative of management company requests Yoo Jin to perform in replacement of JB, but Yoo Jin rejected his suggestion. Jung Wi Bong (Jr.) at the side said to Yoo Jin, "May be Hae Sung will like it," only then Yoo Jin decided to accept the CF. But after Yoo Jin read the news report of romance between JB and Hae Sung, he feels very disappointed.
via TVDaily