The first kiss of Jung Il Woo and Lee Chung Ah was hindered by Lee Ki Woo by force.
In the episode 8 of Flower Boy Ramen Shop broadcast on November 22nd, 2011, Chi Soo was infuriated by the appearance Eun Bi who huddled in the bathroom after was once again been took advantage by her ex-boyfriend.
Chi Soo lost his head after seeing the sobbing Eun Bi, and confessed, "Don't cry, I said you're not allowed to cry, do not cry besides me because of other guy."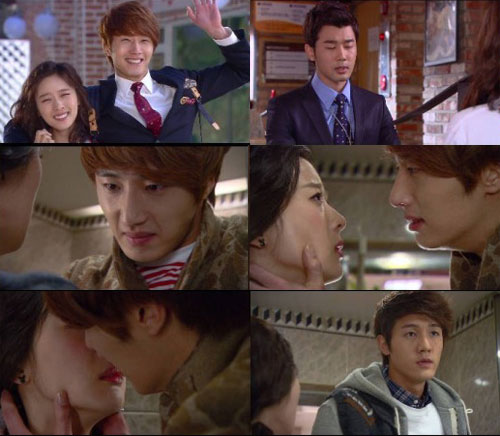 Then, a complete silent fell between them that only heartbeat sound was heard, and when the moment they're about to kiss, Kang Hyuk appeared and hit a punch on Chi Soo, and said, "I know this woman is very sexy but she is not a woman who would do it in a bathroom." After finished saying, he pulled Eun Bi away.
The confession of Chi Soo caused Kang Hyuk to jealous. Viewers are looking forward to the two men who care about Eun Bi, and how the relationship between the three persons to develop.