In MBC drama series The Moon that Embraces the Sun, Yang Myung (Jung Il Woo) has changed from always hiding his inner thoughts, exposing his leadership charisma and heighten the tension of of drama to reach a climax.
In the episode 13 broadcast on February 15th, 2012, Yang Myung confronts Hwon (Kim Soo Hyung) for the sake of Wol, showing a different look from previously.
Wol was falsely accused and took to the Uigeumbu. Yang Myung and Hwon also come to Uigeumbu, ultimately the words of Yang Myung proven the innocence of Wol.
Yang Myung expresses his determination for wanting to have Wol, "Willing to give up everything for something I treasured." But Hwon is opposing, "No, how to protect the girl, must consider the position of the princes."
As Hwon has no children, Yang Myng is second only to Hwon in list of succession to the throne, and his presence is a threat to Hwon, but Hwon disregarded the cautions from others since childhood, developed a deep relationship with Yang Myung. Even so, there is a knot inside the heart of Yang Myung, and this contradiction plays an important role in this drama.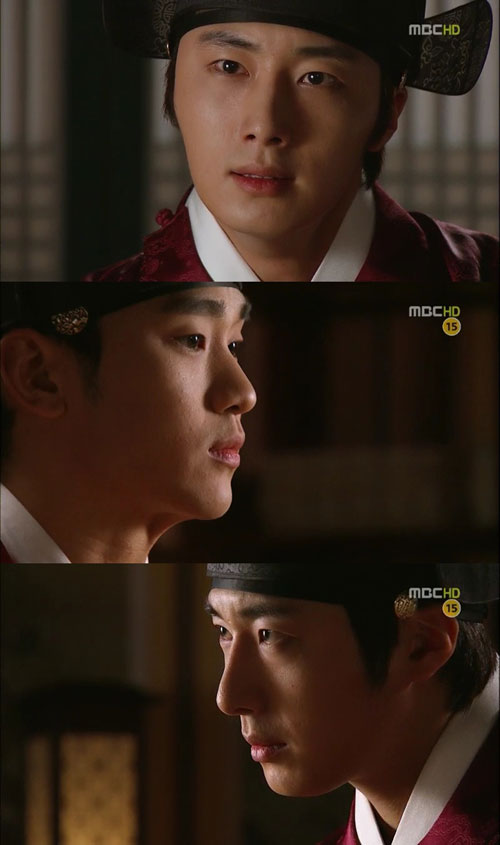 Seeing the different face of Yang Myung, viewers said one after another, "It's the most famous scene for the confrontation of Yang Myung and Hwon," "Soon is the era of Yang myung, Yang Myung is showing extraordinary charms and is shining," "Will pay attention to the change of Yang Myung in future, Yang Myung is about to rebel, exciting" and so on, reflecting the great expectations of the audience.
In addition, Queen Dowager mentions about Prince Uiseong, hinting the dangerous future of Yang Myung. So the future development is even more attracting attention.
via Chosun