Jung Il Woo and Han Ga In were captured to have fun during the break.
Recently, a message was posted on SNS, saying that "Jung Il Woo whose hand flipped forehead of Han Ga In worth paying attention to," at the same time uploaded a photo, attracting everyone's interest.
Jung Il Woo and Han Ga In played the game of hand flipping the forehead during the rest time while shooting the MBC Wednesday and Thursday drama series The Moon Embracing the Sun. Although both of them was wearing hanbok, but they didn't look gentle, in fact they looked like they're playing like a kid. Jung Il Woo who was full of naughty expression and Han Ga In who lowered her head looked like a good classmate in the primary school.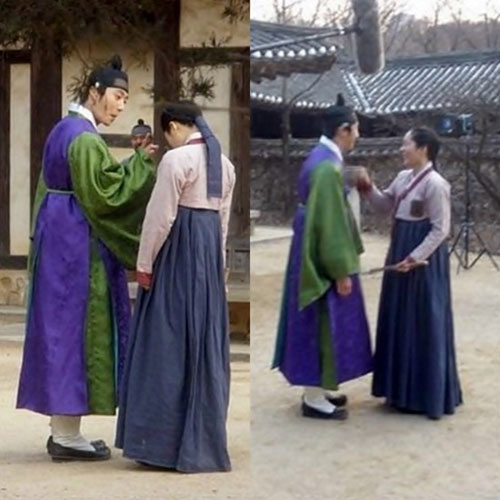 Netizens commented, "Not together with Kim Soo Hyun, but played with Jung Il Woo," "They look close," "Jun Hun Yeon should be tense" and so on.
The Moon that Embraces the Sun is ending on March 8th, 2012.
via Joongang Daily