In MBC drama series The Moon Embracing the Sun, the everlasting love of Prince Yang Myung (Jung Il Woo) is heartbreaking. In episode 15, the rare scene of Yang Myung and Yeon Woo (Han Ga In) live happily together is revealed.
In the drama, in addition to love of Lee Hwon (Kim Soo Hyun) and Yeon Woo who is giving heartache to viewers, the predestined fate of marriage of Yang Myung which is cut off abruptly is also making viewers very anxious. And the recently released stills of Yang Myung and Yeon Woo are together happily are making audience overjoyed.
The still images that were released are from the scene that was shot recently in Yongin City, where Prince Yang Myung goes to find Yeon Woo, and spends a happy time with Yeon Woo temporarily.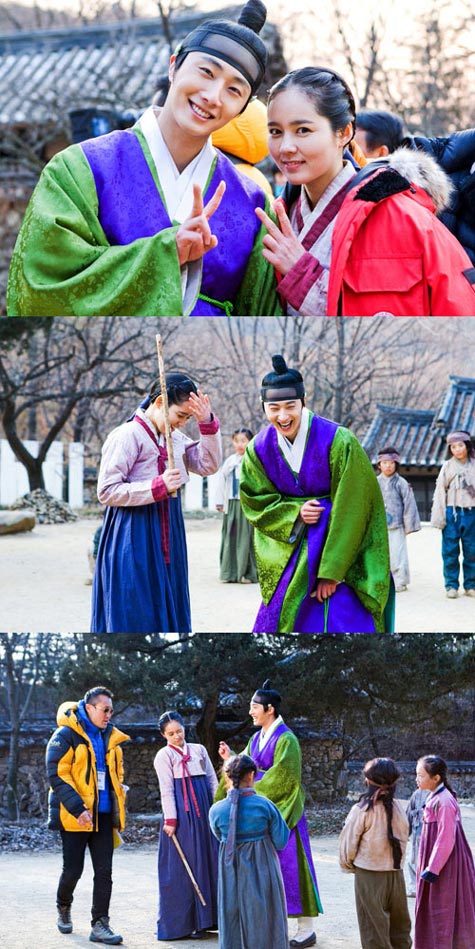 Interestingly, unlike the previous shootings where Yang Myung appeared distressed alone, the scene showed Yang Myung and Yeon Woo have a pleasant time together. While resting, Jung Il Woo played prank, showing a very cordial feel, and even showing a happy smile. The atmosphere on the set was enjoyable. After finished shooting, Jung Il Woo and Han Ga In sat side by side, demonstrating a unique friendship.
Netizens who saw the photos said, "This is the first time seeing such look of Yang Myung and Wol, found that the skin of Yang Myung's face is even better now," "The two persons are such a good fit, support Yeon Woo and Yang Myung together," "The look of devout people, hope to see two of them alone in the drama as soon as possible" and so on, the response were overwhelming.
The Moon that Embraces the Sun has come to plot where Yang Myung is confronting Hwon, raising expectation of viewers, the regain memories by Yeon Woo pushed the story development towards the climax.
In addition, the scene of Yang Myung and Yeon Woo together is broadcast in episode 15 broadcast on February 22nd, 2012.
via Chosun