It's not an exaggeration even if saying that the last episode of The Moon that Embraces the Sun (TMTETS) is the story specially designed for Prince Yang Myung (Jung Il Woo). Audience could not help but shed tears looking at Jung Il Woo who chose to end his own life in order to protect Lee Hwon (Kim Soo Hyun) and Yeon Woo (Han Ga In).
In fact, it's very simple to portray Prince Yang Myung in TMTETS as the contradictory character between the Kim Soo Hyun and Han Ga In, but thanks to the wonderful performances of Jung Il Woo, the role of Prince Yang Myung could be highlighted in the end. Reporter met with Jung Il Woo who passed the audition for TMTETS even before finishing his previous drama Flower Boy Ramyun Shop, and who has been continuously filming without rest for more than half a year.
– In order to film the drama, you have not rested for 6 months, now it has ended, you should be slightly relaxed?
"Before then was too busy, since the filming of TMTETS hasn't been going out and playing with friends. When airing the final episode, everybody gathered at home to watch the TV. Mother and sister cried while watching, only at that time, then I realistically felt that 'ah, I am dead.' Haha."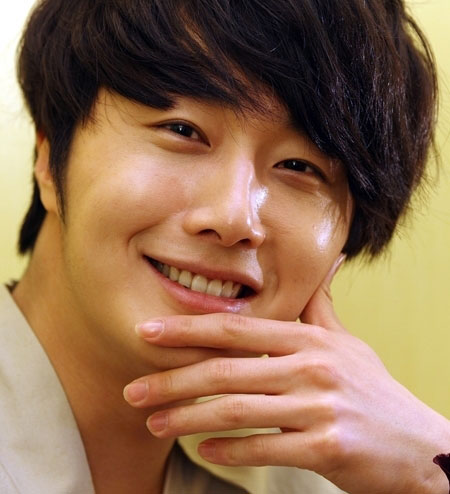 – You really did not cry?
"I have seen many times the edited last episode, so did not cry. Actually on the eve of airing, I went to the TV station again to add in narration."
– From 49 Days, Flower Boy Ramen Shop to The Moon that Embraces the Sun, the role you played always change, what's the standard you used to select project?
"Other actors may consider many factors such as director, writers, editors and partnering actors, but in my opinion, as long as it's a work that I can do well, I will accept it unconditionally. This drama was mainly decided based on the recommendation of the mother and sister. My mother used to watch Tears of Dragon (TV series running from 1996 to 1998), and she said that Prince Yangnyeong in it is very similar to Prince Yang Myung. My mother said that whenever speaking of Tears of Dragon now, she will still only think of Prince Yangnyeong, so asked me to play such a role once."
– In order to play the role of Prince Yang Myung, do you make any special preparation?
"Study the script whenever free. I re-watched another drama of the author of original novel Jung Eun Gwol, Sungkyunkwan scandal, and also watched the drama mentioned by mother, Tears of Dragon."
– This should be your second time acting in historical drama after The Return of Iljimae, it seemed relatively relax, isn't it?
"Of course there is secret. After passing the audition, I spent 4 days 3 nights just to buy supplies to resist the cold. Even if Seoul was warm, but local cities were really cold. I had to put on four to five shirts, and then pasted over 10 warming pads to survive. When it's really cold, all these was useless, but it's still million times better than having nothing. Han Ga In and Kim Soo Hyun were starring in historical drama for the first time, they're not familiar with these 'basic preparation,' I gifted them a lot, haha."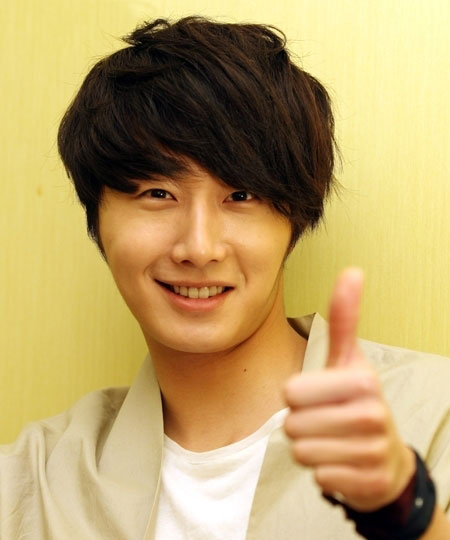 – The shooting schedule was tight, you must be very exhausted?
"After finishing 49 days, rested for a while, and then started the shooting for Flower Boy Ramen Shop, the physical stamina fell to rock bottom. Joined the filming of TMTETS again, and the filming schedule was very tight, did not even have much time to go to restaurant to eat. When shooting Flower Boy Raman Shop, I did not eat instant noodle even once, but when shooting The Moon that Embraces the Sun, because of no time to eat, so ate a lot of instant noodles. Later on, I even went directly to the Korean hospital to grab gongjindan (traditional multi-herbal formula) that is taken by exam takers to eat. It's too hard, I truly felt that I have to take good care of my body."
– Will Jung Il Woo in reality does according to the last episode, dying for Lee Hwon and Yeon Woo?
"Prince Yang Myung is not only because of Yeon Woo, but also because of younger brother Lee Hwon, thus he chose to do so, isn't it? In fact, I would do so too if I am in such a situation."
– Then do you like the type of girls like Yeon Woo?
"My ideal type seems to be always changing. I like girl who has hearty and cool personality. Girl with appearance which looks to have good skin, and generally gives a feel of cheerfulness is my ideal type."
– For Jung Il Woo, what does The Moon that Embraces the Sun means?
"The Moon that Embraces the Sun is a drama that lets Jung Il Woo grew up. Thanks to the drama, helped me to grow a lot of confidence. If saying that previously I acted by working hard in memorizing the script, then now I can really immerse into the development of the plot, becoming a character in the drama. I feel that Prince Yang Myung and me have blended as one."
– What's your future plans?
"Aha, I would like to have a good rest, really tired like wanting to die. But after the end of this interview, I must go directly to the school (4th year in Faculty of Performing, Hanyang University). When filming 49 Days, I have received school warning once, this semester should really study hard. Next year must graduate."
via Joongang Daily