Jung Il decides surprisingly to become a shooting staff one day.
In a photo published on March 13th, 2012 which was from the shooting scene of the last filming day, Jung Il Woo's hand held a camera, shooting towards Kim Soo Hyun and Song Jae Lim.
Jung Il Woo and Kim Soo Hyun are confronting sharply in the drama The Moon Embracing the Sun, but at the filming set, they showed splendid smile, attracting people's attention.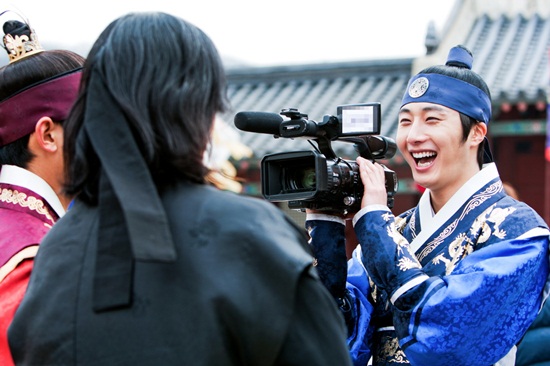 Kim Soo Hyun and Song Jae Lim greated cordially Jung Il Woo who held the camera, making the last shot, revealing the happy time during the ending. Especially Jung Il Woo who turned into a production crew surprisingly, the crews on the set joked, "Jung Il Woo is the youngest crew on the set."
On the other hand, the precursor for the bloody Yang Myung has made the drama enters the high tension stage before the ending, with two episodes remaining on the series.
via Donga