In the recently concluded SBS drama series "History of Salaryman", Jung Ryeo Won played the role of granddaughter of Jin Shi Hwang, Baek Yeo Chi, who is appearing with a red hair and commands staffs aggressively. She recently told the story of "Jung Ryeo Won" in and out of the drama in the interview with bnt.
In "Salaryman Chohanji", Baek Yeo Chi who shouts "You're fired!" regardless of men, woman or children as long as she is not satisfying appeared by dressing in simple and capable light-colored casual formal wear, reminiscent of Yoo Hee Jin in the TV series "My name is Kim Sam Soon" who has a tall and slender figure. But in the interview, reporter learned that: Jung Ryeo Won was suffering before she completely understood "Baek Yeo Chi," to the extent of waiting to die. Because of difference in personality with Baek Yeo Chi, she had to spend a difficult time.
Saving "Jung Ryeo Won" through "Baek Yeo Chi"
Jung Ryeo Won said about her role Baek Yeo Chi, "Me whose personality is careful met with Baek Yeo Chi who is hearty and forthright in the drama drama, it's uncertain if I can play an impartial character." To play the Baek Yeo Chi who is decisive and forthright, Jung Rye Won could only secretly overcame the difficulties. She said, "Although I had memorized the lines, but I couldn't immersed into the role, and I didn't know the reason. At that time, I was thinking how could I become so unsociable, couldn't accepted myself. But then I thought that it's me who can decide whether I get the recognition from the viewers, if I have decided to do it, then I have to do it well, so I made up my mind."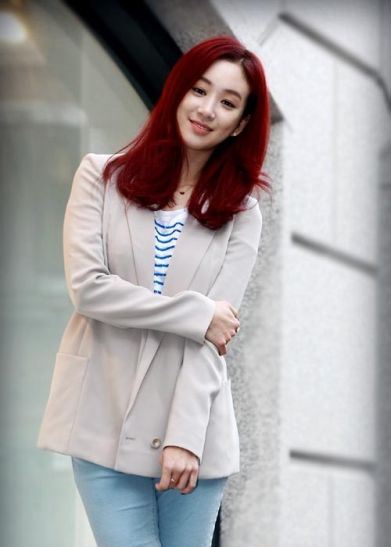 In order to play well "Baek Yeo Chi who likes to call someone names," Jung Ryeo Won pestered director Yoo In Sik without reserved, "Don't give up on me, it's director who cast me." Practice after practice made Jung Ryeo Won into Baek Yeo Chi. From episode 5 and 6, Jung Ryeo Won who slept in the open and Baek Yeo Chi become one to perfectly interpret the amazing role of "Baek Yeo Chi".
The eye-catching red hair of Baek Yeo Chi is idea from orange hair of Bree Van De Kamp in U.S. drama "Desperate Housewives"
On the day, Jung Ryeo Won still appeared in the red hair of "Baek Yeo Chi." In the drama, in order to play the role of "Baek Yeo Chi," she dyed red hair for the first time in her life, and dyed for 14 times during the filming period. Why red? In this regard, Jung Ryeo Won mentioned heroine in American TV series "Desperate Housewives", Bree Van De Kamp (played by Marcia Cross).
"For unknown reason I feel that the hair of Baek Yeo Chi should be red. In the script, there is line of 'Change all, red is better', so Baek Yeo Chi should like a strong color, that's the red color. Just like the Bree with orange hair in American series 'Desperate Housewives'."
The result of movie is not as good as drama? The public love is the "reward"
Apart from recent TV series "Salaryman Chohanji", the filmography of Jung Ryeo Won includes "My Name is Kim Sam Soon", "Which Star Are You From" and movie "Never Ending Story", "Pained", "In Love and the War" and more. But comparing with dramas, the result of the movies are slightly unsatisfactory. In this regard, reporter also asked Jung Ryeo Won carefully about the box office for the movie.
"Although there are movies that I starred in have good box office, but there are a lot more which has unsatisfactory box office, so I always feel that the I won't be casting for role in movie, but the constant proposal by directors for me to star made me very grateful. They let me insist on doing I want to do, which itself is the gift to me. If the roles are loved by everyone, then that's my reward," Jung Ryeo Won used the remark to talk about her belief in the film.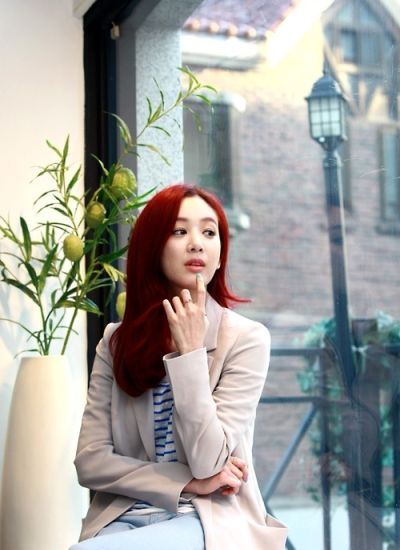 Asked whether she will appear in TV series soon, she said, "Starred in drama after a long time, have the opportunity again and spent a long time to adapt to the rhythm of shooting the TV series, so I want to star in drama again to take advantage of still existing feeling."
"Salaryman Chohanji" is a gift for Jung Ryeo Won
Normally the characters in TV drama series will change according to the views of audience, modifying the script before shooting, most of the actors is very afraid of such situation.
"But 'Salaryman Chohanji' never received the script on the day, the script can be received at least 3 to 4 days beforehand, so I had ample time to prepare. If suddenly act the play which I do not know, then I am not fulfilling my responsibility to viewers." Jung Ryeo Won who spoke the sentence was almost like returning to the role of Baek Yeo Chi in the drama, speaking out her ideas orderly.
Through drama "Salaryman Chohanji", Jung Ryeo Won reduced the "fear for the unknown," and also changed herself who is careful and like to sulk, becoming a tougher person who is even more care about herself.
Jung Ryeo Won who was debuting in 2000 as a member of four-member dancing group Chakra and later switched to become an actress used to tell the difficulties faced by singer-turned-actor in an entertainment program. Although it was made public earlier, but still want to hear the inside story of the heart of Jung Ryeo Won.
Will spend whole life to wash away the stereotype on actor originated from singer
"There are more people whom cooperated again but used to say that my color as singer is strong during the initial stage of acting career. Whenever I heard of 'How to do it if without you, at that time don't know, very sorry', I feel satisfying and grateful, ths kind of feeling is really unique but also very interesting," Jung Ryeo Won recalled tearfully the scene at that time, proving the injustice she suffered at that time.
About the situation at that time, Jung Ryeo Won said, "At the year when I was 24, with the time of been alone increased, I become stronger. Now I am considered to be very strong. Previously, I shed tears because of just one sentence by other, and even eat sedative pill to appear in TV programs." She jokingly said, "If it's Baek Yeo Chi, she will face fearlessly, but at that time very easy been hurt, and even hide in washroom to cry."
Jung Ryeo Won, who dropped out from school halfway because of the love for acting, leaving behind parents to come to South Korea alone, suffered from prejudice because of been singer. She even fasted and prayed with mother hoping to star in a drama, but still could not escape from the unspoken rules of the entertainment industry.
Although now many singers are starring in TV series or movie, but at conservative entertainment industry at that time, it's particular difficult for singer-turned-actor to star in TV shows or movies. Jung Ryeo Won said, "Every time I would like to take a lifetime to wash away the prejudices by others on the singer-turned-actor, can sing and act is versatility, but at that time no one took it seriously."
Jung Ryeo Won strove to understand the people who looks at people in stereotype, and finally concluded, "It's not I has singer image, it's because director has no courage. Director has no confident to interpret me as an actress, and it's not because I don't look like an actress."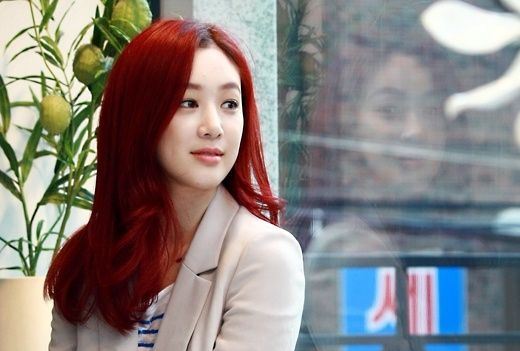 "Reborn Jung Ryeo Won" encourages idol-turned-actor
Lee Seung Gi, boy band JYJ, girl band Girls' Generation (YoonA, Yuri, Sunny, Jessica), miss A's Suzy, T-ara (Jiyeon, Hyo Min, Eunjung), Children of Empire (ZE:A) and many other idol singers accounted for a place in TV series or movie, and continued to participate actively in singing activities. What's the opinion of actress Jung Ryeo Won who is the early singer-turned-actor on this?
In this regard, Jung Ryeo Won said, "Challenges the new areas, which in itself should be commendable. Person who dares to challenge is brave and strong. Has the ability to do two things should be given recognition, should not be selfishly protecting own jobs. With the increase of competitors, oneself will naturally develop, on the contrary if there is no competitor, can only stuck in rut."
"They are more hardworking than anyone else. Because knowing that most people still have prejudices, so work even harder. People fears change, at this time do not blame yourself, if there is people biases against you, then think of it as the person is in fear of failure. And also do not have expectations, treat the person who chose you as a man of courage, and has hope," Jung Ryeo Won used these words to convey intimate advice to juniors.
via bntnews