Actor Jung Suk Won who won the love of many viewers through his performance in SBS's "Rooftop Prince" published several photos which show off the sexy chocolate abs on his naked upper body through his personal Twitter account.
Jung Suk Won tweeted, "Very hot! Want to go to swimming pool, splash~". And he uploaded the semi-nude photos where he was in the pool and excluded manly charm. The solid muscular body attracted attention.
He went on to wrote funnily, "Last year in the pool. Don't misunderstand, I'm not digging navel," provoking laughter.
The girlfriend of Jung Suk Won, Baek Ji Young, who saw the message said, "Me too, how are you doing in the pool?"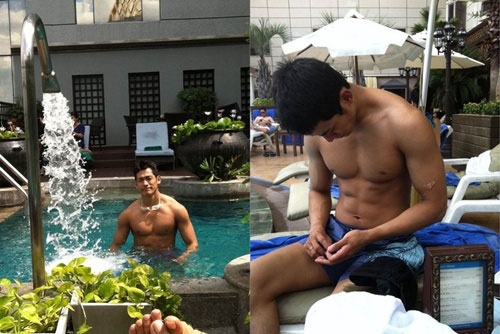 Jung Suk Won replied, "I said that couldn't swimming pool treats the pool as human~" In this regard, netizens left messages to expressed their envy.
Jung Suk Won is starring in SBS's "Rooftop Prince", playing the role of warrior guard for Crown Prince (Park Yoochun), Woo Yong Sul, and won the love of many viewers with funny acting.