Actor Jung Suk Won revealed the story his romance with singer Baek Ji Young.
On the MBC variety show Come to Play special feature "I am martial arts star" hosted by Yoo Jae Suk and Kim Won Hee, Jung Suk Won made public his meeting with Baek Ji Young. On the day's broadcast, Kim Bo Sung, Jung Doo Hong, Lee Sang In, Jung Suk Won and others were guest starring.
Jung Suk Woo said on the program, "Baek Ji Young and I were introduced through a designer who is closer. He continued, "At the time I was a little shocked. Although she is a very casual girl, but can also feel that she is a shy little girl."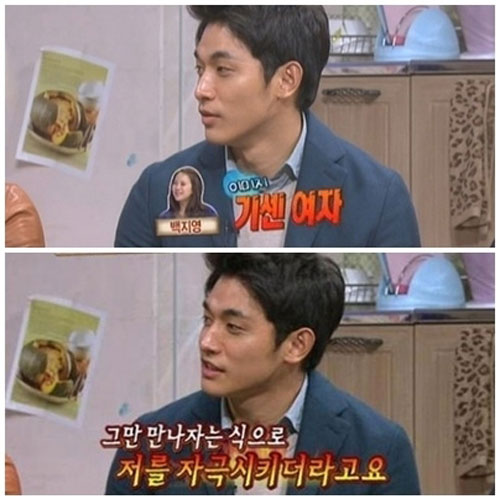 He added, "It's very hard when filming TV series. So always keep contact. Later we meet up and chit chat, and found that we've many similarities. Did not mind about the surrounding, and also did not want to hide anything, the result was surprising, the rumor did not start way too early."
Jung Suk Won said that they have had a very painful parting moment. "About 6 to 7 months, Baek Ji Young wanted to end the contact just like this, 'from your point of view, just begun like this will cause you hurt,' letting me received a not too small stimulation." He continued, "I said that I have my own, do not afraid, we can do it. Then she moved to tears."
Jung Suk Won admitted his romance with Baek Ji Young on June 2011. The 9-year-old gap between them used to be a controversial older sister-younger brother love.
The rating for the Come to Play broadcast on the day is 7.4%.
via Joynews24