Micky Park Yoochun of SBS new Wednesday and Thursday drama series Rooftop Prince was expressing the feeling of envy towards the ratings of MBC's The Moon Embracing the Sun.
Park Yoochun, Han Ji Min, Lee Tae Sung, Jung Yoo Mi, Lee Min Ho, and Jung Suk Won attended the production press conference of Rooftop Prince held on the afternoon of March 5th, 2012 at Jamsil Lotte Hotel.
On the day, reporters asks Jung Yoo Mi the question of "Is it hard to act as villain?" Jung Yoo Mi said, "In my previous drama A Thousand Days' Promise, I feel that if it's a good script, audience can accept."
Then, Jung Yoo Mi continued, "Currently I'm seriously reading the script, to see how the character develops. At home, because of playing a antagonist role, the worry has been increasing." Jung Yoo Mi said, "When starring in A Thousand Days' Promise as Hyang Ki, I wore comfortable clothes. On the contrary, because of not sure what kind of feelings will be brought to audience in Rooftop Prince, so currently is anxious."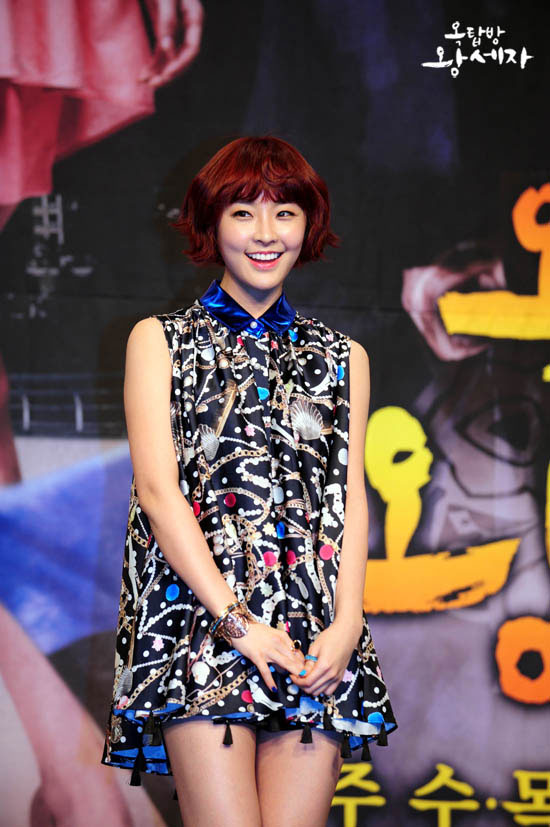 Finally, Jung Yoo Mi said, "When starring as a villain, people around will be worried. But want to display a variety of acting in different works, will perform well no matter how much anguish and worry in future."
Rooftop Prince is a drama based on the story of a crown prince who lost the crown princess, and then travels through 300 years of time to Seoul in 21st century with his ministers to complete the love which otherwise unachievable. In the drama, Jung Yoo Mi is playing the role of older sister of Park Ha (played by Han Ji Min), Hong Se Na, who is beautiful and charismatic, and a highly ambitious woman.
Rooftop Prince will premiere on 9:55pm on March 14th, 2012.
via Osen