She is not the Jung Yoo Mi in the movie "The Crucible", but Jung Yoo Mi who is acting in the One Thousand Days' Promise written by Kim Soo Hyun scriptwriter which is in hot discussion. In One Thousand Days' Promise, Jung Yoo Mi plays the role of Noh Hyang Ki who is a daughter from weighty family. She is innocent, loves Ji Hyung (played by Kim Rae Won) without the slightest distraction, and never doubts himself and his promise of marriage. In front of Ji Hyung, she does not have own view and self esteem at all.
"In order not to give anybody trouble, of course I feel that I am nervous. For the work of Kim Su Hyun, the audience has more real-time reactions and response. This made me felt burdensome, so I feel that must do it perfectly.
Although until now only 2 episodes have been aired, but she has personally felt the popularity of the show. In order to match her identity of wealthy girl in the drama, there is adequate fashion sponsorship. Even those brands that previously said, "She is rookie, so may be cannot," have contacted her after the broadcast, let her felt the power of popularity.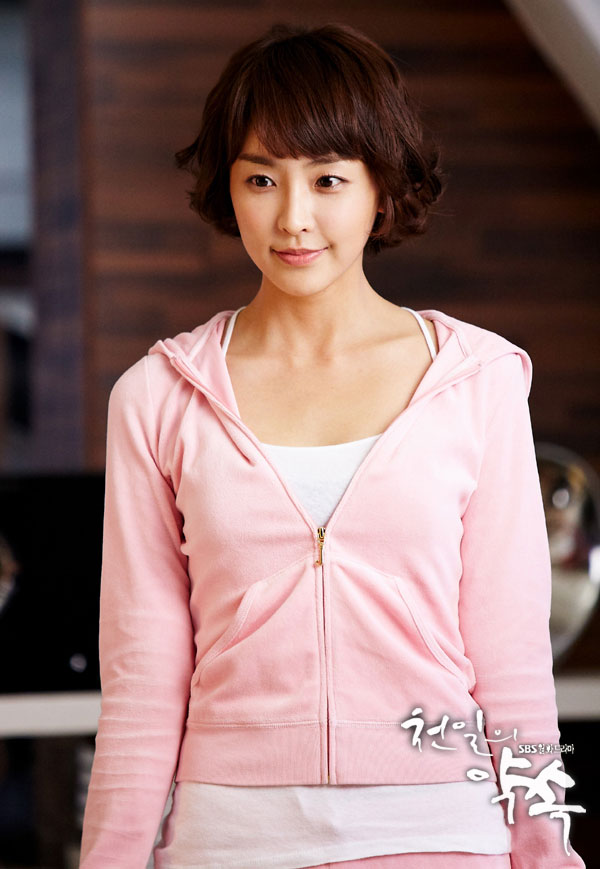 "Initially because there is no sponsorship from branded and expensive brands, we held a meeting specially for this issue after the script reading meeting. One senior said, 'I lend you my bag for you to use.'"
To become a true Noh Hyang Ki, she also used several recourses. In order to be able to love Ji Hung (Kim Rae Won) more realistically, Jung Yoo Mi pasted the photo of Kim Rae Won is every corners of her room. In the drama, she becomes a rival in love of Soo Ae unintentionally. About Soo Ae, she said, "She usually does not talk much, relatively quiet, inner strength appears to be very strong."
"When first read the script, I felt the the personality of the role is a little bit different from mine. Because if knowingly love a person blindly and purely is a little bit foolish. So when getting start with the character it's not so easy. I thought it's only difficult when playing antagonist or insane role, but actually to play the change of feeling which can shed tears because of a sentence of man but can also happy if not so easy. The dialog lines which are unique to the writer also made me felt there is some level of difficulty."
As the theme of the TV series is more serious, Jung Yu Mi afraid that she may looks like "a balloon blew by wind," and so deliberately lowers down her voice. But everybody wants her to interpret the character as more lively. The character she played can be counted as the only bright role in the otherwise dull shaded drama series.
Senior actor Park Young Kyu encourages her, "The role of Noh Hyang Ki supposedly to be acted by a person like Hyang Ki, if not then it's bad. You just like Hyang Ki."
Due to same name with others, Jung Yoo Mi has also gone through a lot of things that both funny and annoying. Because the response to the drama is good, Jung Yoo Mi is also excited when speaking, however, when talking about the name, she became slightly serious again.
"A few years ago because I wanted to change the name, and the representative from the company had also been to naming company to consult. But because I had always continue my showbiz activities, and my name Jung Yu Mi had already been printed on movie posters and various promotional materials, so the thing has been dragged on. Before appearing in this drama, I have thinking of must change the name, but my real name has again been printed on three movies that are going to be on air soon, namely "Wonderful Radio, "You Pet" and a Chinese film, so have to give up the plan again."
Now she has basically abandons the idea to change name. She said, "Once my agent took my information and photo for a director to see, but only afterwards he knew that director thought I am another Jung Yu Mi. Although I have been hurt a lot, but I guess she (the other Jung Yoo Mi) has also suffered damage due to same name. Since it has been the case, I hope that we can both win though.
"I feel that A Thousand Days' Promise is a work that will let me learn a lot. Be it acting skill, strength of acting, ups and downs of the emotion, and many others, there is simply too much new things. And the way to treat crews, director and writer is also different. I feel that this is the drama that will let me grow a lot. Not to mention that through this drama will increase level of awareness of me, but it's already an honor to be able to cooperate with everybody through the time, and go to the finish line together."
via kukinews