South Korean actress Jung Yoo Mi guest starred in SBS's "Midnight TV Entertainment", and revealed the secret of slimming legs. Jung Yoo Mi has a pair of flat shoes and slender legs, attracting attention.
In the program, Jung Yoo Mi carefully explained secret of slimming legs, "Lie down sideway, arms maintain at right angle, straighten the legs. Lift one leg for three seconds. Then slowly lower the leg, maintaining for 3 seconds."
Jung Yoo Mi went on to say, "Repeat the steps, can exercise the muscles of the thighs, buttocks, and waist." And she made public the method of using the leg to draw semicircle to stretch the legs.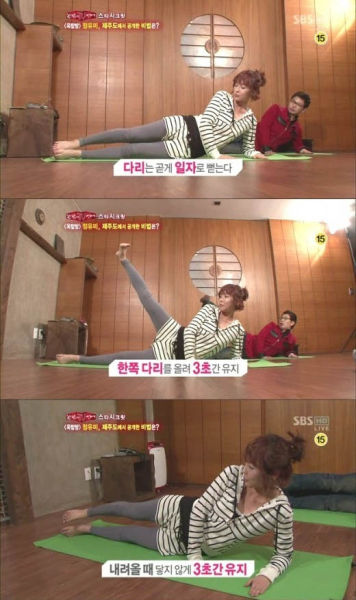 Many viewers commented after watching the program, "The secret of Jung Yoo Mi's slender legs is by exercising the leg," "No matter how also have a part f natural beauty", "Jung Yoo Mi's body, so envy," "Without persistent efforts, cannot get perfect body" and so on.
In addition, Jung Yoo Mi is currently starring in SBS TV drama "Rooftop Prince", playing the role of treacherous and sinister Se Na, winning the audience's recognition and praise.