Fellow JYJ member Kim Junsu is singing an OST with the title of "I Don't Like Love" (also translated as "Dislike Love", "I Hate Love", or "Hate Love") for SBS drama series "Rooftop Prince".
The song "I Don't Like Love" is composed by the composer of hit OST "That Woman" from "Secret Garden", Jeon Hae Seong, and is set to release as Kim Junsu's single on May 15th, 2012.
The song has made its debut on the TV screen through episode 14 of "Rooftop Prince" aired on May 3rd, 2012, although it's used inaptly as the background music on the scene of Se Na (Jung Yoo Mi) and Tae Mu (Lee Tae Sung). Nonetheless, it provides sneak preview for the eager fans to listen to the song.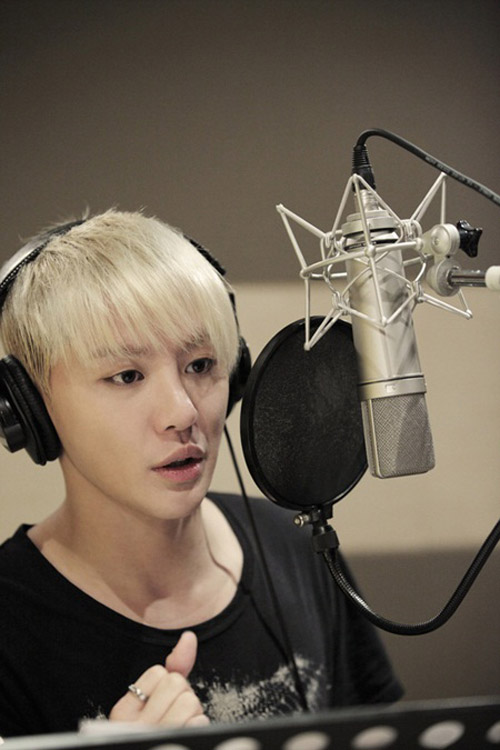 Watch the video cut of the scene, with English translation of lyric follow:
The fans at DCinside has listened to the song and wrote the lyric. As only slightly more than 1 minute of the song was aired, so the lyric is not complete. In addition, as the song is mixed with actor's voice, so part of it is not clearly heard, and hence may be recorded wrongly.
I Don't Like Love (사랑이 싫다구요) Lyric
헝클어진 내 머리처럼 내 마음 속도 점점 엉망이 돼가죠
요즘 정말 사는게 사는게 아니야 그래
니가 보고싶어
그까짓 사랑
너란 여자가 뭐가 그리좋아 또 힘든지 모르겠어
눈에 또 밟히는 슬픈 추억을 잠못이룬 이 밤 또 어떡해
단 하나 갖고 싶은 사랑 또 버리고 싶은 그사랑 가질수도
후~ 후~ 버릴수도 없는 사랑이 싫다구요
I Don't Like Love (사랑이 싫다구요) Lyric English Translation
Like my tangled hair, my heartbeat is gradually getting messy
These days, living really is not living good
I miss you
That love
I know I love you so much, but I don't know it's hard
What should I do in this sleepless night and the eyes are stepping on sad memories again
The only love that I want to have, another love that I want to abandon
Whoo~ Whoo~ I don't like love and I can't let go of it either