The bold back hug by Kim Soo Hyun and Kaya Scodelario created a glamorous atmosphere.
On May 2nd, Kim Soo Hyun and Kaya Scodelario shot the pictorials for J.Estina jewelry brand on the scene which gathering many photographers with designers.
Kaya Scodelario is a new British actress and model, and Kim Soo Hyun often views her as his ideal type of girl. Based on this basis, J.Estina selected the two persons to co-produce the advertisement.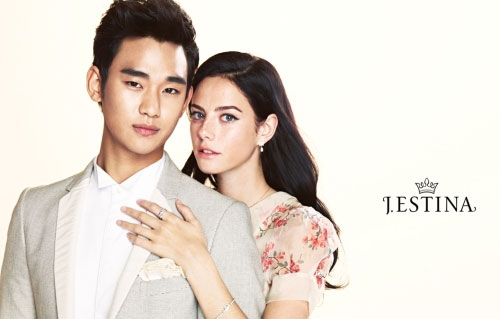 The neat hair of Kim Soo Hyun coupled with clean gray suit. Kaya Scodelario was wearing a one-piece dress with decorative pattern, and hugged Kim Soo Hyun from behind. Especially she put her hand on the left chest of Kim Soo Hyun, the physical contact is enough to make all women goes insane.
The CF of two persons will release at the end of May 2012 through all J.Estina shops.
via Joongang Ilbo