The actress of SBS's A Thousand Days' Promise Kim Hae Sook is admiring Soo Ae and Kim Rae Won.
"Has to put in many feelings into simple lines, so it's very difficult even for actors of same age to play the role of Seo Yeon, but Soo Ae really acts very well. Also, I am surprised with the devotion of Rae Won into the character of Ji Hyung, and is also very worried. The two actors act very well."
Kim Hae Sook who shows the intellectuality and warm motherly love in SBS's A Thousand Days' Promise is praising both lead actor and actress Kim Rae Won and Soo Ae.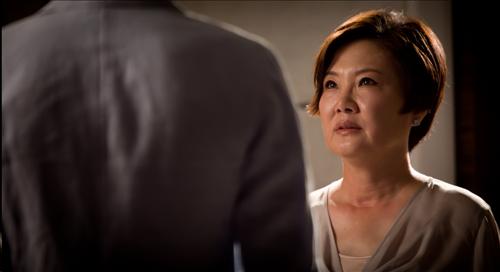 In the exclusive interview on November 19th, 2011 by Younhap News, Kim Hae Sook said, "The extent of devotion by Rae Won towards the character of Ji Hyung, is just like body has to endure for real the pain of stuck in it. This is second cooperation with him after the movie Sunflower (2006), although cooperates with him is in harmony just like breathing, but I am very worried looking at his desperate look." She further said, "He perfectly portrays the image of a youth who is growing up upright, but inside the heart has many feelings."
Kim Hae Sook confidently said: "In the beginning, showing a lot of Ji Hyung's charm, but in life, it seems that he cannot solve a lot of things reasonably and intellectually. Under the condition of having engaged with Hyang Ki, Ji Hyung continuously meets with Seo Yeon, but from now on, Ji Hyung will show true love to Seo Yeon, until the end of the TV series, and will be greatly moved by Ji Hyung."
Kim Hae Sook added, "Ji Hyung boring character does not detract the charm of this drama. Ji Hyung has deep inner thoughts, so the performance method of Rae Won on this role, although there are parts which have the feeling of unfamiliarity, but through to Yuan's performance of this role, even though there are some strange feeling, but as time goes on will present a new charm skillfully."
For the role of Soo Ae, Kim Hae Sook commented, "If comparing with "Trap of Youth," the role in this drama is even harder than "Trap of Youth," and the interpretation of Soo Ae of the role is better than expected, making me wanted to clap for her. Compare with tragic appearance of losing memory, Soo Ae is giving an even more grief inside the heart, such a though acting but she perfectly portrays it."
via Nate