Kim Min Seo exudes the outstanding charisma to attract people's attention.
In the episode 12 of MBC drama The Moon Embracing the Sun broadcast on February 9th, 2012, Yoon Bo Kyung (Kim Min Seo) is interpreting the aspect of disfavor and set up a trap for Hwon (Kim Soo Hyun) who does not have her in heart.
Bo Kyung knew that for Wol (Han Ga In), Hwon will not refuse to consummate with her, so she finds her father Yoon Dae Hyung, requesting him to to convey to the king that if the king refuses to announce that his body is improved, then they will punish Wol according to law of the land, but if the consummation of marriage is successful, then Wol will not be held accountable. After listening to the words of Yoon Dae Hyung, Hwon is very confused.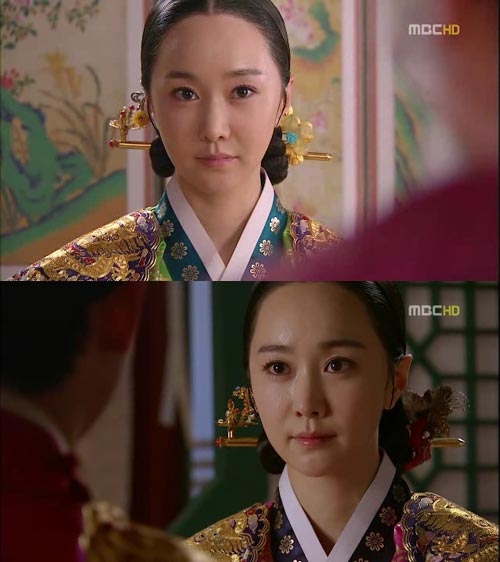 On the day of consummation, Hwon is facing Bo Kyung with a cold face, Bo Kyung returns with a sober face. A fierce psychological warfare developed between two persons. Kim Min Seo is showing her charisma, and the acting improves further.
In particular, previously the father of Yoon Bo Kyung, Yoon Dae Hyung, is taking the king as a puppet, displaying the look that should be on someone ambitious, letting people feels the tension and that the plot is about to reach its climax, and received the evaluation that the central figures are thoroughly remolding.
After the broadcast was finished, netizens commented with responses, "The scene of the two opposing each other, you're indeed the first lady," "The mother of the country is charismatic," "Kim Min Seo is new star of villian," "The eyes of Yoon Bo Kyung seemingly have a laser fired at Lee Hwon, getting more interesting" and so on.
The Moon that Embraces the Sun broadcast every Wednesday and Thursday nights at 9:50pm.
via SBS