Kim Rae Won and Soo Ae are enjoying the beautiful beach honeymoon on Jeju Island.
In episode 14 of SBS TV's Monday and Tuesday drama series A Thousand Days' Promise broadcast on November 29th, 2011, Kim Rae Won and Soo Ae finally tied the knot. In the absence of relatives from the side of groom, they still held a romantic dream-like wedding. After the wedding ceremony, the sweet photos from their honeymoon trip is been making public, attracting countless envy.
Kim Rae Won and Soo Ae were enjoying the a honeymoon trip on the beautiful Jeju Island that let Soo Ae said that "her life no longer has regret." Luxury hotel, beach, blue sea, folk culture village, the just married Ji Hyung (played by Kim Rae Won) and Seo Yeon (played by Soo Ae) were creating happiness at various tourist attractions.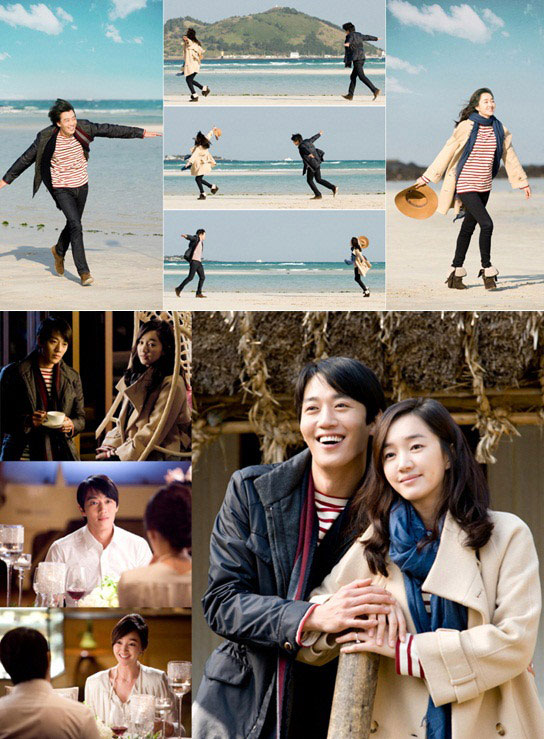 Especially on the beach under the sun, the scene of them running with open arms, as if getting the happiness of the whole world, superior influential power of caused viewers to empathize with them. At the folk village at Hallim Park, they showed the real lightheartedness and warm peaceful feeling of newly wedded couple.
The producer of A Thousand Days' Promise said, "After the honeymoon photos of Ji Hyung and Seo Yeon were making public, the number of inquiry by tourists to the hotel has rapidly increased. Providing such a beautiful place for filming the new start of the love of two persons, we express gratitude to the hotel. Please continue to support the two persons' love in future.
The episode 13 of A Thousand Days' Promise broadcast on November 28th, 2011 was rated 16.7% nationally, ranked number one on Monday and Tuesday drama.