The SBS's "Good Morning" program hosted by Bae Ki Wan, Choi Young Ah, and Jo Hyung Ki aired on November 17th, 2011, had brought viewers to the behind the scene filming venue of the A Thousand Days' Promise starring Kim Rae Won and Soo Ae.
During the shooting on the day, after Soo Ae forgot her dialog lines and caused the NG, she smiled coquettishly, and the atmosphere on the spot was harmonious and warm. In order to memorize the lines, Soo Ae started to concentrate and her hair was messed a little bit, Kim Rae Won naturally helped her to tidy up the hair.
Later, Soo Ae lost her balance when her assistant was adjusting her long pant and shoe, and the Kim Rae Won who stood at least three persons away rushed to grab and hold firmly her right hand, showing gentlemanliness. After a while, Soo Ae still did not let go of her hand, showing that their relationship is not usual. This has also caused the speculation that both of them may already in love relationship.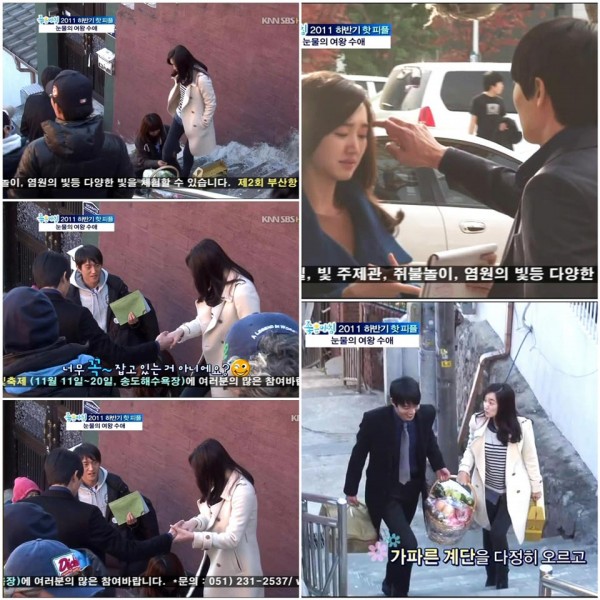 This seemed to the the warm continuation of the drama series, where Kim Rae Won broke off an engagement to stay beside Soo Ae, but Soo Ae did not want to encumber Kim Rae Won after sickness.
Actually, during the production press conference held on October 11th, 2011, Soo Ae had expressed that she felt good when together with Kim Rae Won, and that she felt he is true and honest, clearly revealed the good feeling early on. Currently the show is the champion in the ratings for the time slot, and if coupled with both of them gets together, it will be double happiness for both of them.