The new SBS drama A Thousand Days' Promise has published the under the water hot kiss scene between the lead casts of Kim Rae Won and Soo Ae, which is romantic yet bursting in passion, attracting the discussion of netizens, and added many interests to the love story that destined to be a sad story.
The production team released the preview trailer for the underwater kiss shot on October 4th, 2011. It's reported that the underwater kiss scene was shot in Gyeonggi-do resort, and the scene shows the plot of which both of them in passionate love. the From the still images from the kiss scene, Soo Ae who recently did not reveal much of her body wore a bikini, showing off her good figure. Kim Rae Won who had crazily slimmed down 15kg just for the drama, also fully shows off her sturdy body in the kiss scene.

After filming the beautiful and aesthetic kiss scene, production team explained that in fact Soo Ae does not know how to swim, so it's hard to soak inside the water for the whole day for the shooting. But she made every effort to overcome difficulties to complete the filming with the help of Rae Won.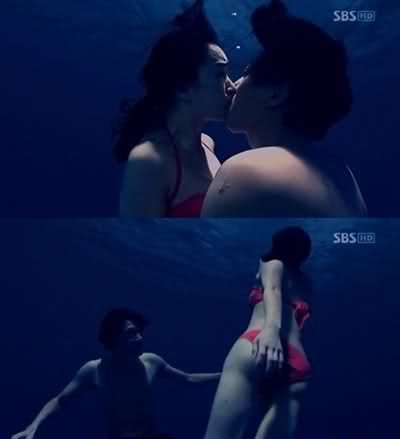 1000 Days Promise set to premiere on the night of October 17, 2011, and the underwater kiss scene will air on episode 2 set to broadcast on October 18th's night.

via Nate