The acting skill of Kim Rae Won in shedding tears had made the whole prime time theater cries, and at the same time deeply implanted his presence in the heart of the viewers.
In the 5th episode of A Thousand Days' Promise aired on October 31st, 2011, Park Ji Hyung (played by Kim Rae Won) finally knew that Lee Seo Yeon (played by Soo Ae) is suffering from Alzheimer's disease.
Although they love each other, but they had no choice but to break up. After Ji Hyung knew that his lover is suffering from an incurable disease, he beaten his chest, sobbing and crying on the bed. The sobbing acting bearing the trademark of Kim Rae Woo had also made viewers in front of the TV moved with tears.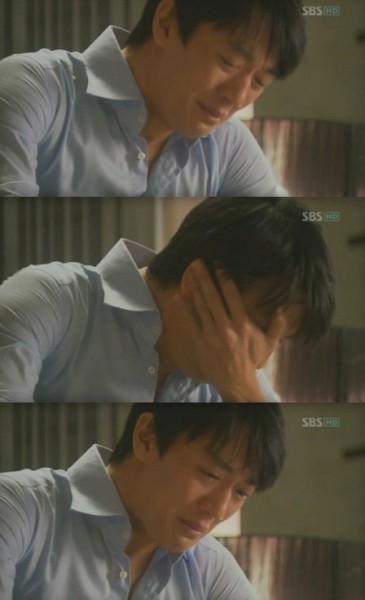 Kim Rae Won as a male actor, when comparing with his charm of rug and generous, his image of gentle innocent man is stronger. And his unique play of shedding tears is a lot.
In MBC TV series "Say You Love Me" and "Which Star Are You From," he shed tears after hurt by love. In SBS TV series "Love Story in Harvard," similar to "A Thousand Days' Promise," he is in love with a girl who has terminal illness. And he also played a rigid male in "Sunflower" movie.
In the drama, Park Ji Hyung and girlfriend Lee Seo Yeon with Alzheimer's disease face the painful parting after get together for a period of time. The casting had picked Kim Rae Won to play the role, enough to prove the power of his tears.
The acting of Soo Ae is one major highlight of A Thousand Days' Promise. After separating with lover Park Ji Hyung, the earnest thoughts of love she expressed for her boyfriend, and the sadness and angriness shown after knowing that she suffered from Alzheimer's disease, her meticulous acting is telling people that Soo Ae who is good in playing the emotional scenes have came back legendary.
Kim Rae Won has put most of his attention on Soo Ae. Park Ji Hyung is a person conflicted between the true love to Lee Seo Yeon and responsible for Noh Hyang Ki, he is hesitating, and hard to make a choice. Although this requires writer Kim Soo Hyun to make the final account, but Kim Rae Won through his sobbing skill has managed to portray lively the character of Park Ji Hyun, whom does not exist in real.
It can be said the character of Park Ji Hyung moves the audience through his tears, and consequently the character has become clearer and more obvious. If we assume that Park Ji Hyung is struggling at the edge of reality and ideal, which is very practical but the lack of charm, then an innocent man who drop tears for the woman he loved, although is not very realistic, but full of charm especially and colorful.
Similar to his previous works in numerous TV series and movies, the power of the tears of Kim Rae Won is big. The duel of tears of Kim Rae Won and Soo Ae is expected to be the major highlight of A Thousand Days' Promise.
via Newsen