"For the first time since I was born there are so many dissenting voices, perhaps I did something wrong, really painful."
After taking his seat, Kim Rae Won (30 years old) had a long sigh. Although is the actor in leading role of the SBS Monday and Tuesday ratings champion drama, "A Thousand Days' Promise", but it was not as thought previously, to shine with the image of "scourge man" rather than "innocent man," seemed like having a lot of struggle in the heart. He also analyzed his own reasons. "Because this is a TV series, have to wait a week before a little more is shown, standing in the position of the viewers to think, in the whole week Ji Hyung is appearing with the image of indecisive, isn't it? From now on, a highest purest love of a man wants to be expressed through vicious way to express, please looking forward to it."
Completing the filming in the wee hours, Kim Rae Won rushed to Seoul Cheongdam-dong to accept the exclusive interview of Ilgan Sports. He joked that his black eyes almost get to the chin, but his eye socket is very moist.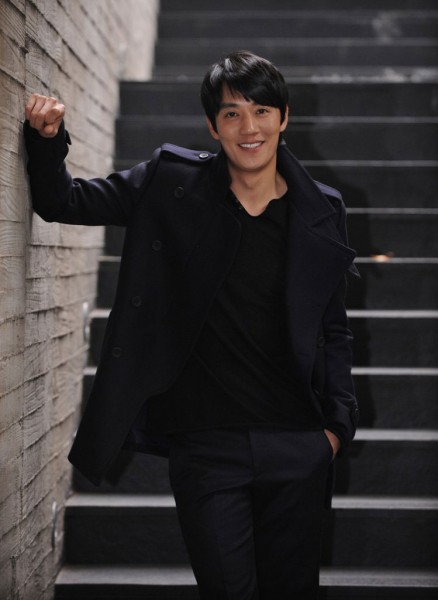 – Your collarbone are exposed to your collarbone, you really slim a lot.
"I got fat a lot in the army, and I even heard someone said, 'are you only eating pizza in the armed forces', 'hamburger Rae Won.' But after confirmed to act in A Thousand Days' Promise, I subconsciously reduced 8kg of weight, after entering the formal shooting, reduced by another 8kg. Very tired, also does not have appetite. Working hard not to let food over the throad, now is less than 70kg."
– Uh, you has been perturbed by the recent negative comments on Internet, don't you?
"This is the first time in my life that this ever happens, it is really painful. I use the heart to interpret the role, in this case I have done my best, but still subject to this kind of evaluations, I feel very hurt, and now I don't even online."
– How does writer Kim Soo Hyun evaluate you?
"She said I am as clever as a fox. In all my works, teacher Kim watched "Gourmet" and "Insadong Scandal" before, she praised me and said that 'to tell the truth, I really does not expect you to act so well'."
– Which part of Ji Hyung is the most difficult to play?
"Seo Yeon (played by Soo Ae) can completely express her feelings, talk at the top of her voice, laugh, cry. But Ji Hyung (played by Kim Rae Won) often use ellipsis dot '…'. When Soo Ae just about to speak, then there appear '…' 'oh Seo Yeoh' '…' this kind of expressions. At that time can I just standing there? At the moment where I need to hide all the emotions and pull it away is the most difficult part to act."
– The speed of speech is very slow in the drama, the volume is very low. Is your real character is the same?
"Compared to the sharp voice, I belong to low and deep voice. In real life, never quarrel when together with girlfriend. When first time read the script, Kim writer blamed me and Soo Ae, said 'be more heated, you never in love before? Rae Won you never quarreled when in love?', the atmosphere was filled with the smell of gunpowder. Then I said, 'Teacher, I generally do not get angry,' everybody laughed."
– There are rumors that you look very alike with Yoo Jae-Seok who doesn't wear glasses.
"I know about it, I also feel I look similar with Yoo Jae-Seok when I looked in th mirror, haha."
– And there is people who said that you have very large nostril which is not fond of by others.
"If you search my name on the Internet, there will be search term "nose" that is related. My nose is originally this long, what can I do? I also know that there is some strange pictures are spreading, those exaggerated versions that are PS from the original versions. I am also a human being, of course will feel hurt, smiling to get over it."
– In the press conference a month ago, it's rumored that Soo Ae had already been using friend tone with Lee Sang Woo, but seemed like it's not the case with Kim Rae Won.
"At that time it was true, now we can even joke, get along very friendlily. At the end of wee hour shooting just now, told them that I am coming here for interview, they encourage me 'go for it, see you later'."
– The in the water kiss scene with Soo Ae has become a topic.
"When Soo Ae was receiving guidance for the filming under the water, I was playing in the water and did not come out. I like the water in the first place, such as fishing or something else. I also have a underwater diving and platform diving certificate."
– Jung Yoo Mi was praising you at the filming set, said that Kim Rae Won was helping her to park the car, is a very kind brother.
"This is considered to be the care for a kind junior. A few days ago I saw a report, Jung Yoo Mi said, 'brother Sang Woo is better when comparing with brother Rae Won.' I don't put at heart, and thing past, but that day she followed me to the restroom of the filming venue, she said, ' Zheng soft 'compared Yuan brother, brother with Roy better'. I did not on the heart, on the way later, but that day She followed me to the shooting scene of the toilet, she said, 'brother, I only said I prefer the kind of Jae Min in the drama, but the news was written as such, please don't misunderstand,' looked like very hurt. To people who is delicate and kind, I am also very kind-hearted."
– Kim Hae Sook who plays the mother is cooperating with you for the second time since movie "Sunflower." She openly stated that "want Kim Rae Won to be her son-in-law."
"Unfortunately, I did not meet with her second daughter. She said so because she is very fond of me, during the military service, I always keep in touch with mother (Kim Hae Sook). In fact, if there was no mother's strong recommendation, I not will star in "A Thousand Days' Promise." I wanted to refuse to act, but mother said it would help the acting, then I just made up my mind."
– Many lines are like bead jade, are there any lines that impressed you?
"I become the fans of Kim Su Hyun teacher in the course of acting in the drama. I even made inquiries for future works prepared by the teacher. The dialog between me and mother has this one sentence, 'Is the earth broken?' 'No, your father destroyed the universe,' got goosebumps while reading the lines. If want to play the 'ellipsis dots,' have to look at the lines of Soo Ae. 'The nasty Alzheimer's disease', is really fantastic."
– What's your future plan?
"So far, I sometimes shot two works every three years, sometimes making two works every four years, but after the completion of "A Thousand Days' Promise," I may want to shoot movie or other works without a stop. May be in the military life, is eager for acting. Want to use work to fill the blank period."
via JoongAng Ilbo