SBS TV series A Thousand Days' Promise is the topic of discussion since its debut, and is attracting attention and tightly holding on to vision of audience with shocking unconventional bed scene and kiss scene. A Thousand Days' Promise describes the story of Kim Rae Won who met with a new love just before his marriage, and Soo Ae who gradually lost her memory in front of love, where both of them can only face with painful love. In the drama, Kim Rae Won turns into a bad guy who can't hide his love to Soo Ae when facing his fiancée Jung Yoo Mi.
In the second episode, Kim Rae Won is woke up by the intimate kiss of Jung Yu Mi early in the morning, but Kim Rae Won rejects her. The resolute Kim Rae Won who unkind to her caused Jung Yoo Mi shed tears. To Jung Yoo Mi, Kim Rae Won can no other than a bad guy. But to Kim Rae Won, he has no idea of which to choose between Soo Ae and Jung Yoo Mi, and so can only waver between the two girls. It's obvious that he has a selfish personality.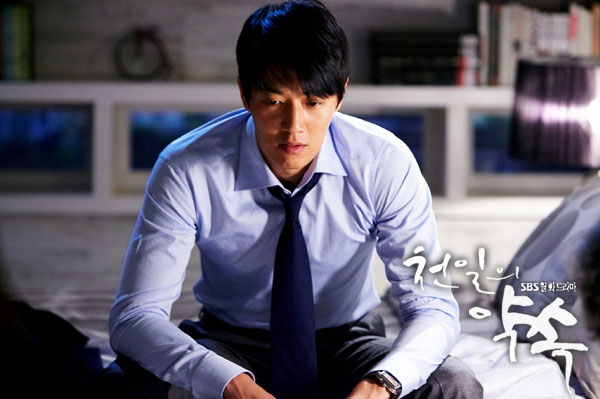 Next up is the intense underwater kiss scene of Kim Rae Won and Soo Ae, which shows the passionate love between them. At the deserted outdoor swimming pool, under the night sky, Kim Rae Won spends a happy time with Soo Ae alone. But suddenly Soo Ae shakes off Kim Rae Won in the water, and floats to the water surface. Kim Rae Won tells her, "I want to do it again in the water," and shows a teasing smile. Those who viewed the scene, who wouldn't get aroused? Such act by Kim Rae Won, whose image is originally of bad guy, immediately changed into a warm man in the eyes of women.
At the end of second episode, the amnesia of Soo Ae is getting worse and the fact that she is ill also heralds that the love between them will be one of painful. The purest love of Kim Rae Won, and the image of good guy will be shown simultaneously. On the press conference, Kim Rae Won said the following about the role he played, "Have a fatal love line with Soo Ae. Will show an image of falling into love like a fool for everybody to watch." This sentence is the focal point, which announced in advance that Kim Rae Won will display his charm of a warm man.
On the one hand, viewers are scolding the Kim Rae Won bad guy's personality, on the other hand they fall into sorrow. Accompanying with insult, the feelings of audience however goes into the love between him and Soo Ae. In the drama, Kim Rae Won simultaneously displays the dual-charm of bad guy and good guy, but he doesn't play with his sense of existence. In the One Thousand Days' Promise drama written by Kim Soo Hyun scriptwriter which is the first drama by Kim Rae Won after his discharge from the army, Kim Rae Won shows his acting skill naturally. Although it's only aired 2 episodes, but his acting that enjoyed popular support unconsciously and sad eyes, have gripped the sight of viewers tightly. What kind of sense of existence will Kim Rae Won, who played a romantic man in popular drama "Rooftop Room Cat," show when the drama ends is in the spotlight.
Viewers have been trapped deeply into the warm yet emotional TV series One Thousand Days' Promise.
via Star Today