The character Mo Ga Bi of Kim Seo Hyung in History of Salaryman Cho Han Ji has hidden desires, is an extreme role.
Kim Seo Hyung is playing the role of Mo Ga Bin in SBS Monday and Tuesday drama series Salaryman. She was originally the chief secretary in the Cheonha Group's secretariat, and later killed the CEO of Cheonha Group Jin Shi Hwang (played by Lee Duk Hwa).
Kim Seo Hyung said, "Mo Ga Bi is now different from early on. She has been very loyal, but recently changed. The disregard by the president Jin Shi Hwang for ten over years has made her changed and eventually killed him. In fact, many working class has own ambition and dream. But the real situation in the life is hidden desire, and she shows the most extreme example."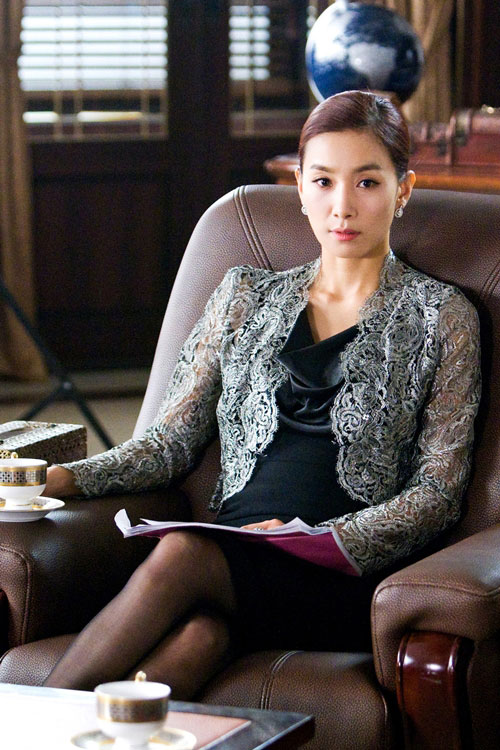 She continued, "Mo Ga Bi is a diverse and three-dimensional role. Therefore, in order to play her well, it's really troubling. Repeated training in acting, and also has to spend some efforts in fashion. When Mo Ga Bi was secretary, she was not prominent, the dressing was not splendid. But after becoming the president, she spends money as much as she likes, the wild ambition shown is completely different from previously. She wants to wear very gorgeous and expensive clothes."
Kim Seo Hyung also pointed out, "Particularly the insulin scene. In order to leave a scene that is connectable in mind when Jin Shi Hwang was killed, she wore a red cloth with evading intention, leaving a strong impression. With the passage of time, the image of her and the company also changing. Recently, in order to retain Choi Hang Woo (played by Jung Gyu Woon), she deliberately went to the mausoleum hall to meet Choi Hang Woo. She looks like a very remarkable woman."
Besides, Kim Seo Hyung also said, "She is very much looking forward to what is the image in the remaining episodes, and what kind of reversal will happen during this period. Mo Ga Bin inthe drama has received very much attention, and wants to sincerely thank everybody for loving us. Will make every effort to play Mo Ga Bi perfectly till the end. How the the plot going to end, please stay tuned."
On the other hand, Salaryman is extending for 2 episodes, and thus will end only on March 13th, 2012. The succeeding drama is Fashion King starring Yoo Ah In, Sin Se Kyung, Lee Je Hoon which debuts on March 19th, 2012.
via Newsen