Actor Kim Seung Woo is making special cameo appearance in My Husband Got a Family (You who Rolled In Unexpectedly).
Kim Seung Woo will play the role of messy exam taker newly moved in to the attic of Yoon Yeo Jung in episode 5 and 6 of My Husband Got a Family broadcast on March 10 and 11 of 2012.
The exam taker played by Kim Seung Woo is a character that has failed in every examinations for mistakes that the cause of error coundn't be found, and eventually decides to return to the countryside. He does not pay attention to cleaning the corridor, and his inability to consider the situation has made Kim Nam Joo very angry. As the result, he becomes a fuse the increased the gap between Yoon Yeo Jung and Kim Nam Joo.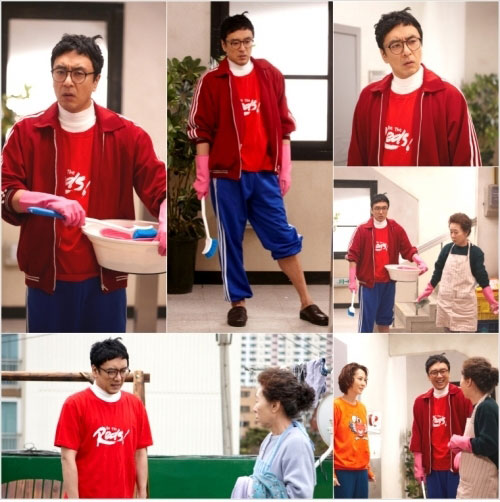 In the shooting at Yeouido on March 4th, 2012, Kim Seung Woo wore a red shirt coupled with blue baggy sweat pant, and rubber gloves to debut, provoking laughter at shooting scene. He perfectly interpreted the natural acting for the look of him holding basin to prepare to clean up and the nonsense dialogue with Yoon Yeo Jung.
After Kim Seung Woo received the script of exam student, although the volume is not much, but he directly and passionately threw himself into the role. Suddenly waken up, with the hair not yet tidying up, the round glasses that let people who looks at it feels somewhat depressed, coupled with trouser-style sports pant, he lets people sees a genuine raunchy image.
Kim Seung Woo is guest starring in order to support his wife Kim Nam Joo. After Queen of Housewives and Queen of Reversals, this is the third time he passionate assistance for his wife.
In addition, the performance fee of special appearance of Kim Seung Woo is also been used to hold a special barbecue party for the production team. Kim Seung Woo said, even after the filming completed, will often return to the set to have meal with everybody to express the love for his wife.