MBC TV Wednesday and Thursday drama series The Moon that Embraces the Sun continues its high-anticipated run. In the episode 9 broadcast on February 1st, 2012, depicting Lee Hwon (Kim Soo Hyun) who treats Wol (Han Ga In) as Yeon Woo.
At first, Lee Hwon thinks that the Wol who always sleeping by his side is secret agent, but according to investigation by Woon (Song Jae Rim), Wol has nothing to do with the power of consort clan, and is just a shaman who serves as good luck charm. The characteristics and tone of voice of Wol let Lee Hwon connects to Yeon Woo in mind, ultimately he decides to directly breakthrough in order to solve the confusion in his heart.
Lee Hwon recalls Won back to Gangnyeongjeon, ordering her to continue to be the shaman who changes the adversity. After Wol enters Gangnyeongjeon, she finds that Lee Hwon who supposed to be sleeping is still awaken, Lee Hwon said, "You let me put down the pain of heart, but now I am very lonely, you let me forget the loneliness, can you do it?" Wol respectfully answered, "If you permit, I will block away all the hardship and difficulty for majesty." Lee Hwon looks into her, letting her raises her head.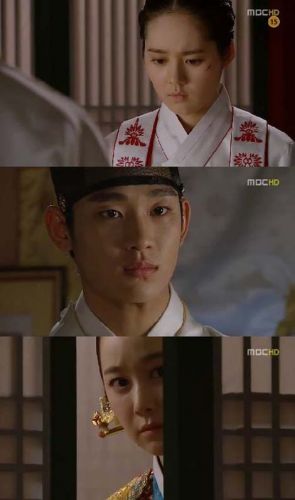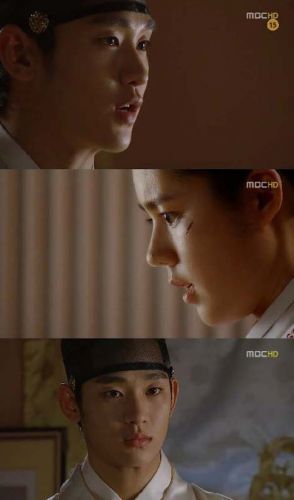 But at this time the Queen Bo Kyung (Kim Min Seo) overheard their talking outside the room. Turns up she heard that a female shaman enters the sleeping room of Lee Hwon and gets worried. Through a crack on the door, she looks at Lee Hwon who looks at Wol, becoming jealous.
via TVDaily