Actor Kim Soo Hyun mentioned about the charm of Lee Hwon in the MBC drama The Moon Embracing the Sun, attracting attention.
Kim Soo Hyun accepted interview at the outdoor scene at Yongin MBC Cultural Dramia on early March 2012, and he answered the question about what's the secret for Kim Soo Hyun to make the people in whole country to be infected with "Soo Hyun disease." He said, "Rather than saying it's my charisma, it's in fact the charm of Lee Hwon. Isn't it due to handsomeness, astuteness and the appeal of the king himself?"
He continued, "Actually, the appeal owned by Hwon possibly be greater than the appeal of Kim Soo Hyun personally. And if the appeal of Lee Hwon in the drama can be applied in real life, it will help me in my future behaviors."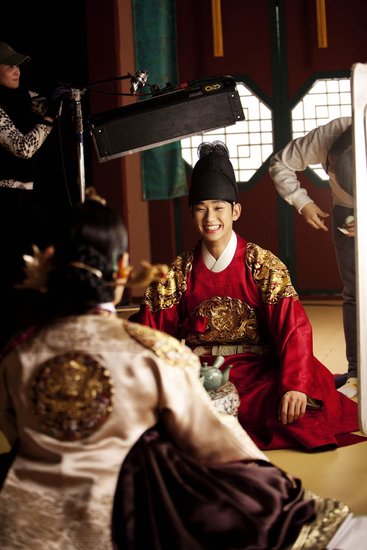 Kim Soo Hyun said, "Now the drama only left 2 episodes, but I will also try my best," and he smiled and said that he's very fortunate to be able to play the such a good role of Lee Hwon.
He also said in the interview, "Although only one last week left, but still does not have sense of reality. All actors and staff crews have been suffering filming under cold condition. I think it's because of such a hard work that made us close to each other, and also achieved a good effect. I am very glad to meet such a good senior colleagues and staff crews."
Lastly, Kim Soo Hyun did not forget to thank the viewer.