Recently, a Korean website published a short video titled "Suzy, Kim Soo Hyun and Taecyeon." In the BtS video of Dream High, the prequel to Dream High 2, miss A's Suzy was fortunate enough to be kissed on cheeks by the two handsome lead actors.
In order to show the entangled relationship between the three persons in the drama, photographer purposely let 2PM's Taecyeon and Kim Soo Hyun stood on each side of Suzy, and each kissed the left and right cheek of Suzy.
Suzy and Tacyeon looked a bit shy, but Kim Soo Hyun showed an expression with a easy grace. The production crews were also frequently provoked into laughter by acting of Taecyeon. To match Suzy, the two heroes who are more than 180cm tall also specially stood by bending the legs.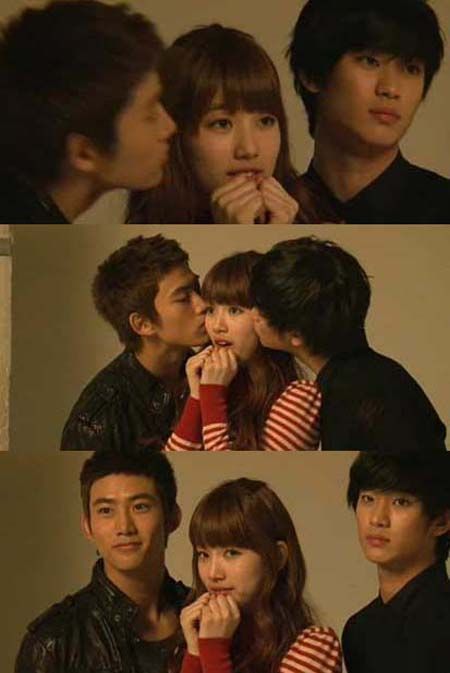 Netizens who saw the video said, "If I can be Suzy, I want nothing else," "One side is Kim Soo Hyun, another side is Ok Taec Yeon, so happy," "Kim Soo Hyun was already popular at the time" and so on.